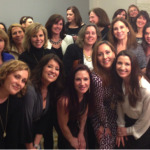 Maybe you've taken a break from your career to stay at home with children. It could be you've been working for 20 years in the same field but have a passion for something completely different. Or perhaps you volunteer at the school, hospital, or community center and have discovered a whole new set of skills you never knew you had! Now what? Come to the next meeting of B.I.G. and find the support you need to focus on your passion.
B.I.G. (Believe, Inspire, Grow) is a women's empowerment organization created to help women "embrace their true life purpose…it's for entrepreneurial-minded women who want to transform their personal passions into viable professional opportunities." The result is a group of all types of women, in all stages of life – personal and professional – meeting, sharing ideas and, more importantly, providing support.
Melanie Wilson, from Summit, started the Summit/New Providence pod of B.I.G. three years ago and it now boasts more than 80 members and is the largest B.I.G. pod. "We strive to empower women at all stages of their professional pursuits, from stay-at-home mothers looking to re-engage in the workforce, to seasoned entrepreneurs and career executives looking to make a change," Wilson said.  "We provide support and education and always embrace women's desire to connect with each other.   Where ever you are in your life at this time, B.I.G. is a great vehicle to help you move forward."
B.I.G. meetings, held monthly, always have plenty of time before and after for informal networking, and focus on areas that help women entrepreneurs advance their careers, such as Demystifying Social Media and Less Stress = More Success.
Melanie encourages women to attend just one B.I.G. meeting and see for themselves how B.I.G. can be a part of a journey toward personal and professional fulfillment.
Questions about B.I.G.? Visit www.believeinspiregrow.com or contact Melanie Wilson at msw1230@comcast.net