Oak Knoll School of the Holy Child is pleased to announce its partnership with Atlantic Health System and Overlook Medical Center for the inaugural Oak Knoll Health and Wellness Expo this fall. The expo, which will be held at the school's Summit campus on October 17, will kick off National Health Education Week and include: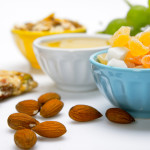 Professionals from Overlook Medical Center will discuss:
• "Stress and Anxiety Disorders in Children"
Speaker: Dr. Christopher Lynch, Ph.D., Psychologist/Coordinator
of Pediatric Behavioral Medicine at Goryeb Children's Hospital
• "Healthy Snacks for Kids"
Speaker: Erica Ohrn, RD, MBA, Health Educator, Community Health Department,
Overlook Medical Center
• "Concussion Safety"
Speaker: Shannon Babineau, MD, pediatric neurologist at Goryeb Children's Center
There will also be a live healthy cooking demonstration by Oak Knoll's Director of Food Services Dave Pette. Local health vendors will be offering multiple products and services. There will be free daycare events for children which will include indoor educational enrichment. The Summit Police and Fire Departments will be offering kids a first-person look at lifesaving skills and equipment.
The event will take place October 17 from 9am – 12pm at
Oak Knoll School of the Holy Child
44 Blackburn Road, Summit, NJ
Get there early: The first 100 guests will receive a free pedometer!
For more information, visit: Oak Knoll School of the Holy Child.