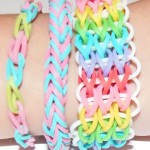 Do you know what Rainbow Loom is?  No?  Okay, you may have a little time, but not much – I'm talking minutes 'til the brat down the street throws you under the bus, tips your child off to this new craze and you find yourself performing acts of derring-do to get your hands on a kit.  (Seemingly level-headed moms are driving as much as 50 miles away to procure these bands.)

Let me put the scope of this craze in terms we can all relate to; remember charm necklaces? Yes, that big.
Here's the deal, Rainbow Loom was invented by Michigan father Choon Ng while watching his daughters attempt to make bracelets with small rubber bands. He created a template with a piece of wood, pins and two dental hooks which allowed his daughters to easily make bracelets with multiple rows.  After shopping his kit to many vendors with no luck, Learning Express Toys agreed to place a small order. In little time, they were flying off the shelves.  A craze was born and understandably so, the possibilities are endless! Mom Kris Ritter says "They've done jump ropes, hats, purses and iPod cases and I love it because there's no electronics, there's no batteries."
Rainbow Loom can be purchased at RainbowLoom.com, Amazon among various others & Michael's will begin selling them in select stores on August 4th.
Check out betwixtgirls.com's recent post about and awesome photos of the Rainbow Loom craze here.
P.S. For those of you who are wondering, yes, that is a photo of my 80's charm necklace; yes, I took the picture today for this post – and yes, I'm aware that I've saved it for over 20 years.  Why?  I have absolutely no idea….