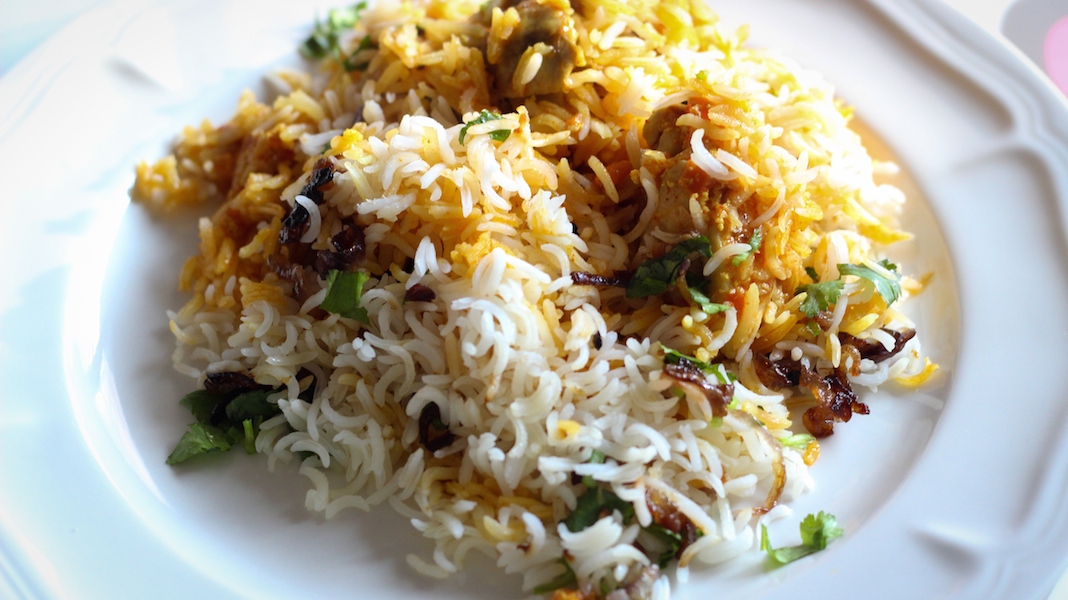 When my husband's family gets together, his mom, aunts and grandmother always make biryani. It's a comforting, aromatic rice dish, in this case, with tender lamb that isn't spicy like many other Indian dishes. I love that it's an all-in-one meal–like an Indian casserole.

Size:

Serves about 8.



Ingredients:
2lb boneless leg of lamb cut into 1" cubes
fresh grated ginger; use a 3" piece
2 Garlic cloves, crushed
2 tablespoons garam masala
1/2 teaspoon chili powder
1/2 tsp ground turmeric
4 chopped green chiles
1/4 cup mint leaves
1 lb basmati rice
4 thinly slice medium onions
1/4 teaspoon salt
1/2 cup oil
1/2 cup butter
1 cup plain Greek yogurt
1/2 teaspoon of saffron strands soaked in 2 t/l warm milk
3 tablespoons lemon juice
optional: 1/4 cup sliced almonds or raisins



Directions:




Mix lamb, ginger, garlic, garam masala, chili powder, turmeric, chiles, cilantro and mint.
Cover and marinate overnight in the fridge.

You have to rinse basmati rice. Rinse with cold water rice in a strainer until water runs clear.

Rinse sliced onions in a strainer, sprinkle with salt and set aside for 10 minutes and let any liquid drain off. Rinse and pat dry.

Heat oil and butter in large frying or sauce pan over a medium heat. Add onions and fry until golden brown, about 5 minutes. Remove onions leaving any liquid in pan. Set aside a handful of the onions to top the casserole later.

Next, remove the lamb from the marinade and fry lamb in batches until browned. (The traditional recipe doesn't always do this but this step helps seal the juices into the lamb.) Transfer the lamb and onions ()to a thick bottomed casserole pot; I use a Le Crueset. Add the marinade and yogurt. Cook covered over a low heat for 30 minutes.

Rice: Boil enough water in a saucepan to cover rice. Add rice and heat until water boils, the turn to low to simmer uncovered for about 5 more minutes. Drain.

Preheat oven to 425 degrees.
Spoon lamb mixture into a pyrex or Le Creuset casserole dish. Layer rice on top. Pour 2 tbl of oil and water over rice. Drizzle with saffron milk mixture. My husband's family tops it with thinly sliced almonds, raisins, and a handful of the sliced sautéed onions. Bake covered at 425 for 40 minutes.

Serve with naan (available at most groceries) and cucumber raita.



---
Why is Turmeric so Good For You?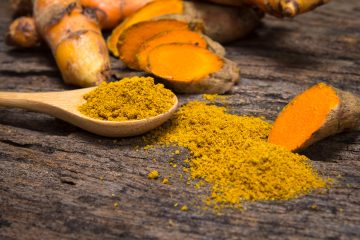 ---
Serve with Cool, Creamy Cucumber Raita.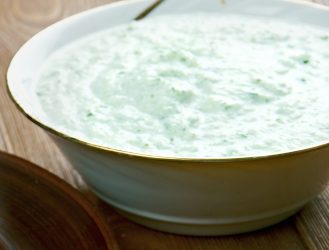 ---
My mother in law gave me an Indian cookbook when I married my husband
and this is one of my favorite recipes: Smoky Indian Eggplant.