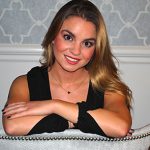 Looking for ways to bring the colors and feeling of summer into your home? We are too! So we asked Krista Wostbrock, of Wostbrock Home, to share her favorite new, must-have items to make your home feel like summer.  "It was a challenge to limit myself to only 5," she confessed, "but here are my favorites." And the best part: All items are 20% OFF between July and August.
All Products are available at Wostbrock, 225 Goffle Road Ridgewood, NJ 07450.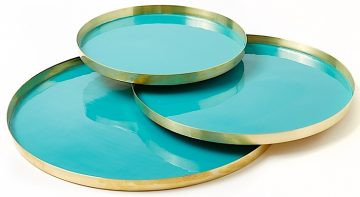 1. Lacquered Brass trays.
A perfect accent to many home and can be used indoors or out. These 3 nesting trays would make a fabulous wedding gift! They come in 3 colors: black, plum, and our favorite, turquoise. They make a beautiful set but can be purchased individually as well. Large, $198. Medium, $186, Small, $164.
2. Spike Coaster Set
Crafted of bone and metal we love this edgy coaster set! It has a matching wine holder as well. $117.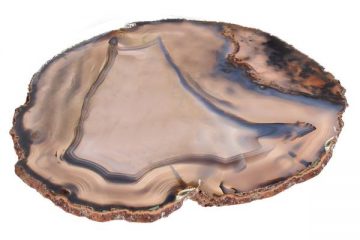 3. Unique Agate Plate
Made from agate forged inside ancient volcanic tunnels, then crafted by artisans in Brazil, these hand-polished platters are perfect for hors d'oeuvres or artisanal cheeses. Since they are natural products, no two platters are alike. Rubber feet on the underside protect table surfaces. Approximately 8″ x 9″. $145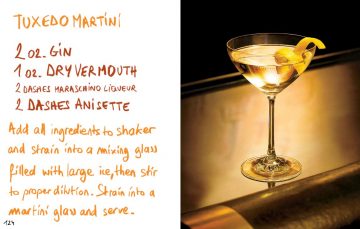 4. Vintage Cocktail Book
Want to make one of the old classic cocktails like a  Fuzzy Navel, a Gin Fizz, or a Missouri Mule? This is the book for you. A great hostess gift or coffee table book. They also carry "Celebrity Cocktails," "Savory Cocktails" and Craft Cocktails. Published by Assouline, $34.
5. Moroccan Leather Pouf
Add some extra seating a a pop of color inside or out with this leather pouf crafted by local artisans using an eco-friendly processes. The leather tanning and drying process creates subtle variations in color, making each piece unique. 20″ x 14″. $350
•
Wostbrock Home, 225 Goffle Road Ridgewood, NJ 07450. (201) 445-0807
Monday thru Friday: 10am – 5pm   •  Saturday: 10am – 3pm   •   Closed Sunday