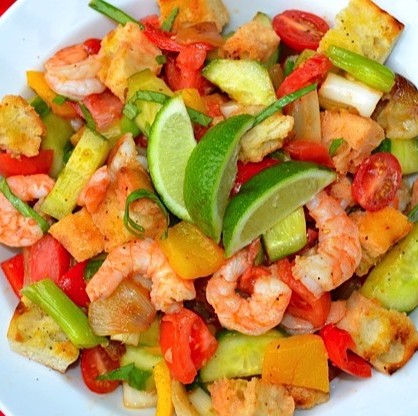 prepared by and photo by Emily S. Downs

For anyone who enjoys gazpacho, this is the main-course meal for you!  All of the ingredients you find in the classic chilled soup, however, this version requires a fork.

Size:

6 servings



Ingredients:
2 medium heads of garlic, separated into cloves, peeled (about 20)
3/4 cup olive oil, divided
1 1/2 lbs uncooked large shrimp, deveined but with shells intact
8 firm plum tomatoes, halved lengthwise
2 bunches green onions; root ends trimmed, onions left whole
1 1-lb sweet onion (such as Vidalia or Maui), cut into 1/2" thick slices
1 red bell pepper, quartered, cored
1 yellow bell pepper, quartered, cored
1 1/2 large English hothouse cucumbers, peeled, halved lengthwise
2 6x3x1" slices country-style bread
2 cups grape tomatoes, halved (about 1 pint)
1/4 cup red wine vinegar
1 tsp hot pepper sauce
1/2 cup thinly sliced fresh basil
Lime wedges



Directions:




Prepare barbecue (medium-high heat). Set aside 2 garlic cloves sliced in half lengthwise for bread slices.  Place remaining garlic on double layer of heavy-duty foil; drizzle 3 tbsp olive oil over.  Fold up and seal packet.  Place directly on grill rack and cook until garlic is very tender and golden, aobut 30 minutes.  Open packet; cool garlic.

Toss shrimp (in shells) and 1 tbsp oil in medium bowl to coat; sprinkle with salt and pepper.  Combine plum tomatoes, green onions, sweet onion, both bell peppers, and 2 tbsp oil in large bowl; toss to coat.  Arrange cucumber halves and bread slices on baking sheet; brush with 2 tbsp oil.  Sprinkle all vegetables with salt and pepper.  Grill shrimp until just opaque, about 2 1/2 minutes per side; transfer to another bowl and cool.  Grill vegetables until crisp-tender, turning frequently, about 3 minutes for plum tomatoes and green onions, 5 minutes for cucumbers, and 15 minutes for sweet onion and bell peppers.  Transfer to large rimmed baking sheet.  Grill bread slices until just beginning to crisp and grill marks appear, aobut 2 1/2 minutes per side.  Rub bread with reserved garlic cloves, then discard garlic cloves.

Peel shrimp; transfer to large bowl.  Cut all vegetables and bread into 1/2-to 3/4″ pieces; add to shrimp along with any accumulated juices.  Stir in grilled garlic cloves and grape tomatoes.  Whisk vinegar, hot pepper sauce and remaining 4 tbsp oil in small bowl; pour over salad and toss to coat.  (Can be made 1 1/2 hours ahead.  Let stand at room temperature.)

Stir thinly sliced basil into salad.  Season salad to taste wiht salt and pepper.  Serve with lime wedges.