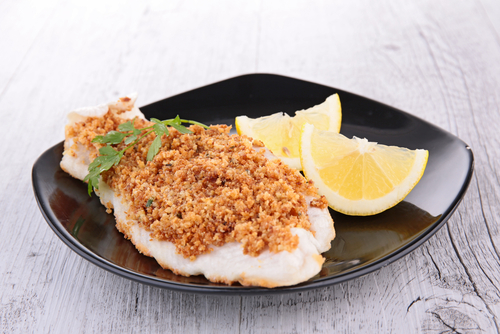 Another super tasty entree for another crazy busy week. Tender flaky fish fillet encrusted in a pecan breading. Baked not fried, so leaning on the healthier side.  Side of steamed green beans and risotto accompany the dish to completion.

Size:

4 servings



Ingredients:
4 (5-6 oz) fish fillets (tilapia, catfish, or snapper)
1/4 cup buttermilk
1/4 cup pecans (finely ground in blender or processor)
3/4 cup breadcrumbs
2 minced garlic cloves (I use only 1)
2 tbsp fresh parsley (minced)
1/2 tsp dried thyme
1/2 tsp paprika
1/2 tsp salt
1 pinch cayenne



Directions:




Preheat the oven to 375F; lightly oil a baking pan.

Rinse the fish and place it in a shallow dish.

Pour the buttermilk over the fillets.

In a separate shallow dish, combine the pecans, bread crumbs, garlic, parsley, thyme, paprika, salt, and cayenne.

One at a time, remove the fillets from the buttermilk, allowing the excess to drain off, and then dredge in the pecan mixture to coat all sides. Place each coated fillet in the baking pan.

Bake for 30-45 minutes, depending upon the thickness of the fillets, until the topping is lightly browned and the fish is tender and flakes easily with a fork.