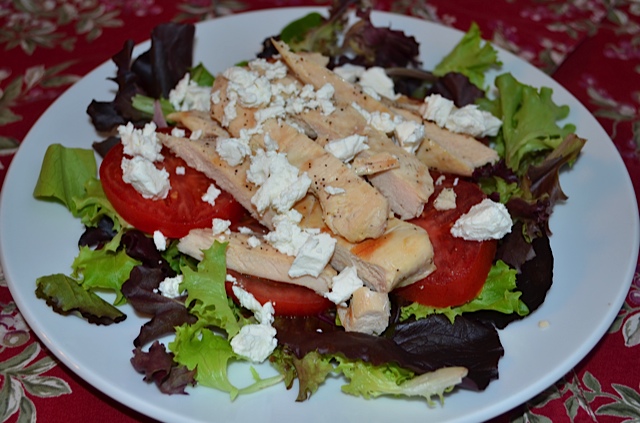 prepared by and photo by Emily Doscher

One of those salads I find myself making frequently come the nice weather.  Takes no time to grill up the chicken as well as assemble.  Doesn't hurt that it is incredibly delicious too.

Size:

serves 4



Ingredients:
4 skinless and boneless chicken breast
Salt and freshly ground black pepper
2 tbsp olive oil
Bag or two of mixed lettuce leaves rinsed and dried
3-4 medium-sized tomatoes, cored and sliced
10 oz goat cheese, sliced into 8 rounds or crumbled
BALSAMIC VINAIGRETTE:
2 tbsp balsamic vinegar
Salt and freshly ground black pepper
6 tbsp olive oil



Directions:




Season the chicken breasts with salt and pepper.  Cook over a hot grill, about 4 minutes per side, brushing with olive oil.  Remove from heat and set aside.

Divide lettuce and tomatoes on four plates.  Slice the chicken on the diagonal into 1/4″-thick slices.  Fan chicken on top of the lettuce.  Arrange 2 slices of goat cheese on each plate (or crumbled cheese).  Drizzle the dressing over the chicken and cheese.  Season with additional salt and pepper.

BALSAMIC VINAIGRETTE:
Place the vinegar in a mixing cup with salt and pepper to taste.  Add the olive oil in a slow stream, constantly whisking until the oil is emulsified.  For a tangier dressing, add more balsamic vinegar.