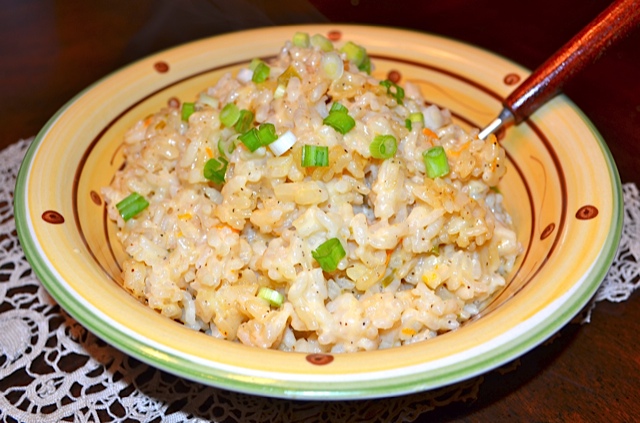 prepared by and photo by Emily Doscher

Some may say preparing risotto is a labor of love.  Takes no longer than cooking plain old rice, but it does take a bit more watching over and stirring.  Citrus undertones, green onion, white wine and parmesan cheese all take part in delivering big flavor in this side dish.

Size:

4 servings



Ingredients:
4 cups (or more) low-salt chicken broth
2 tbsp (1/4 stick) butter
1 bunch green onions, white parts finely chopped, green parts thinly sliced
1 cup arborio or medium-grain rice
1/2 cup dry white wine
1/4 cup freshly grated Parmesan cheese
2 tbsp whipping cream
1 tsp finely grated orange peel
1 tbsp of green onions, white and green parts only, thinly sliced, as garnish



Directions:




Bring broth to simmer in medium saucepan over medium heat.  Reduce heat to low and keep warm.

Melt butter in large saucepan over medium heat.  Add chopped green onions and cook until soft, stirring often, about 6 minutes.  Stir in rice.  Add wine; cook until almost all liquid is absorbed, stirring frequently, about 2 minutes.  Add 4 cups broth, 1 cup at a time, cooking until almost all broth is absorbed before adding more, stirring frequently, until rice is tender but still firm, about 20 minutes.  Stir in Parmesan, whipping cream, and orange peel.  Add more broth by 1/4 cupfuls as needed if dry.  Season with salt and pepper.  Top with sliced green onions.