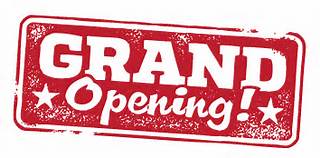 April is here and we finally have some nice weather. It is a great time to head into town. There are lots of new restaurants and stores that are opening this spring. I am so excited to check some of these places out!
Downtown BBQ opened on South Avenue. Downtown BBQ's has is known for signature rub. The restaurant features an open-flame grill. They say it brings out the unique flavors in their meat. Starting with Grade A Prime Angus beef, Chicken and Ribs, they apply a signature rub and allow the flavors to permeate the meat for at least 48 hours before grilling their steaks, chicken, ribs and burgers on an open-flame grill. 908.264.8252. www.downtownbbq.net
Morano Gelato is planning to open on Elm Street across from Addams Tavern. Morano Gelato serves fresh gelato, sorbet, and granita, plus espresso and Italian hot chocolate. www.moranogelato.com
DIRT, a clean culture beauty bar, is opening at 519 South Avenue (former location of Allstate). Their goal is to promote and provide cleaner safer beauty in an eco friendly/toxic free beauty shop. They will offer manicures, pedicures, eyebrow and eyelash services, facial waxing, makeup applications and more. dirtatwestfield@gmail.com
Hand Picked, featuring urban wear and Supreme clothing, is coming to Prospect St. (across from Bovella's). www.handpickednj.com
Westfield Creamery is coming to 258 E. Broad St. (near the Rialto), featuring Emack & Bolio's ice cream, chocolates and smoothies. Emack & Bolio is a Boston based ice cream brand created by a music lawyer in the 70's as a hang-out place for rock 'n roll legends.
Nails Spa & Beyond is opening this summer at 125 Elm Street (next to Addams Tavern). This experienced operator is expanding to Westfield for its fourth location.