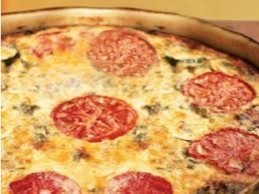 cookinglight.com

All the major food groups addressed in this crustless quiche from Cooking Light (September 2006). Great to eat alone or serve for dinner with a light salad alongside.

Size:

10 servings



Ingredients:
1 1/2 cups egg substitute
3 large eggs
1 1/2 cups (6 oz) shredded reduced-fat extra-sharp cheddar cheese, divided
1 1/2 cups (6 oz) shredded reduced-fat Monterey Jack cheese, divided
1/2 cup 1% low-fat or skim milk
1/2 cup all-purpose unbleached flour (about 2 1/4 oz)
1 tsp baking powder
1/2 tsp salt
1 (16 oz) carton fat-free cottage cheese
Cooking spray
4 cups sliced zucchini (about 4 small-medium)... (can sub spinach here if preferred)
2 cups diced potato with onion (i.e. Simply Potatoes)
1 cup finely chopped green bell pepper (about 1 small)
1 (8 oz) package pre-sliced mushrooms
1/2 cup chopped fresh parsley
2 tomatoes, thinly sliced



Directions:




Preheat oven to 400F.

Beat egg substitute and eggs in a large bowl until fluffy. Add 3/4 cup cheddar cheese, 3/4 cup Jack cheese, milk, flour, baking powder, salt, and cottage cheese.

Heat a large nonstick over medium-high heat. Coat pan with cooking spray. Add zucchini and the next 3 ingredients (through mushrooms); sauté for 5 minutes or tender. Add the zucchini mixture and parsley to egg mixture. Pour mixture into a 3-quart casserole dish coated with cooking spray. Top with the remaining 3/4 cup cheddar cheese and 3/4 cup Jack cheese. Arrange tomato slices over cheese. Bake at 400F for 15 minutes. Reduce oven temperature to 350F (do not remove dish from oven), and bake for 35 minutes or until lightly browned and set.