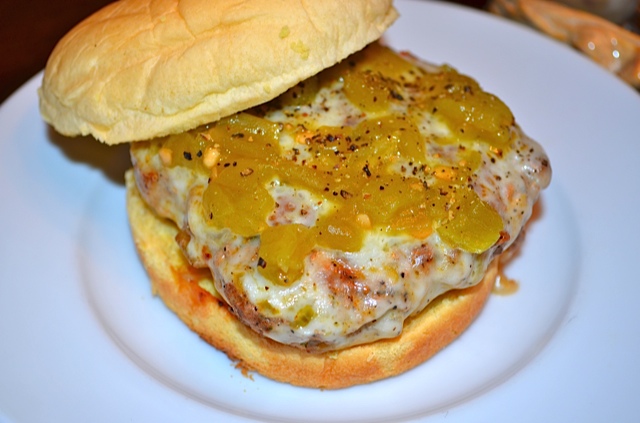 prepared by and photo by Emily S. Downs

A little bit of Southwestern inspiration in these turkey burgers.  Green chilies added with the other seasonings turn an ordinary turkey burger into a WOW burger!

Size:

makes 4



Ingredients:
1 1/3 lbs ground turkey, 85% lean
3 4-oz can green chiles
1/4 cup finely chopped cilantro
2 cloves garlic, minced
1 tbsp chili powder
1 tsp cumin
1 tsp Worcestershire Sauce
1/2 tsp Mexican oregano (or use regular)
Kosher salt
Freshly ground black pepper
4 potato rolls
4 slices pepper jack cheese



Directions:




Place turkey, chiles, cilantro, garlic, chili powder, cumin, Worcestershire, and oregano in a large bowl.  Using your hands, mix together until fully incorporated.  Scoop out 1/3 lb of meat mixture and form into a patty.  Repeat with remaining meat mixture.  Season patties on both sides liberally with salt and pepper.

Preheat grill to medium-high heat.  Spray cooking oil over cooking grate.  Grill burgers until well browned on both sides and an instant read thermometer registers 165F when inserted into the middle of the burger, about 5-7 minutes per side.  Place slices of pepper jack cheese on top of burgers in the last few minutes of grilling.

While the burgers are grilling, place the buns cut side down on the grill and cook until lightly browned.  Remove from the grill.  Place burgers on buns, top with additional green chiles, if using and serve.