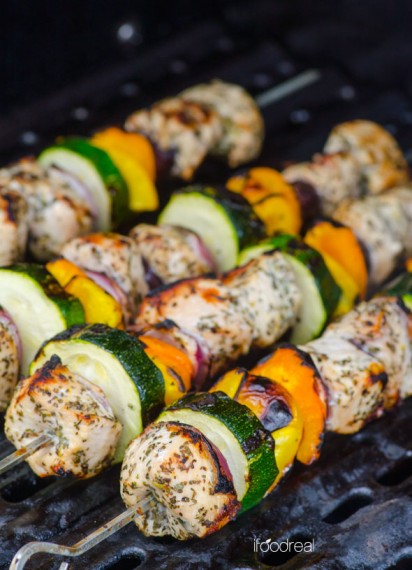 photo creds: iFOODreal

Size:

serves 10



Ingredients:
2 lbs boneless & skinless chicken breast, cut into 1" pieces
20 olives, cut in halves
1 large red onion, cut & separated into 1" pieces
1-2 large garlic cloves (personal taste), grated & divided
1 lemon, juice and zest
2 tbsp dried basil or oregano
1 1/2 tsp salt, divided
1 1/2 tsp ground black pepper, divided
2 tbsp extra virgin olive oil
1 large zucchini, cut into 1/2" thick rounds
3 large bell peppers, cut into 1" pieces
Cooking spray



Directions:




If using wooden skewers, soak in water for at least 30 minutes. (Metal skewers are preferred.)

In a large bowl add chicken, olives, onion, 1/2-1 garlic clove, lemon juice and zest, basil or oregano, 1 teaspoon salt and 1 teaspoon of black pepper. Toss to combine and coat the chicken evenly. Let marinate at least 30 minutes. The longer the meat marinates, the more flavorful it is and less cooking time is required.

Toss zucchini and bell peppers with remaining 1/2 teaspoon salt and 1/2 teaspoon of black pepper. (If marinating meat overnight, you can do this step right before grilling.)

To make garlic oil, combine olive oil and 1/2-1 garlic clove in a small bowl and set aside for when skewers finished grilling.

Skewer the meat alternating with olives, red onion and vegetables onto each skewer. Discard remaining marinade.

Preheat the grill on low-medium heat, around 500F, and spray with cooking spray. Grill skewers with the lid closed turning every 2-3 minutes for even grilling. Kebobs are ready when chicken is cooked through, about 8 minutes.

Remove from the grill and brush each skewer with garlic oil. Serve hot with your favorite whole grain rice and/or salad.