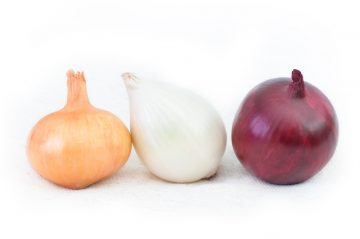 I use onions (usually yellow because Larry has an aversion to red) in just about every meal I make. They are cheap, they are a great base in any meal, add natural flavor and to boot, are sweet and spicy at the same time … AND, they are really good for you.
Onions are a vegetable! Sometimes it is easy to only think of veggies as green, but if you are eating onions, it counts as a vegetable serving. We need to eat more veggies.
Onions are a great source of  vitamins C and B6, iron, folate, and potassium.
Onions have immune boosting properties, so load up during this germy time of year.
They contain phytochemical compounds, which are currently thought to prevent cancer, diabetes and reduce inflammation.
Onions also are beneficial for your cardiovascular system.
Dice them, slice them, saute them, fry them, caramelize them … they may not be great for your breath, but they are good for your health.
If you hate making them, because they make you cry, check these out!