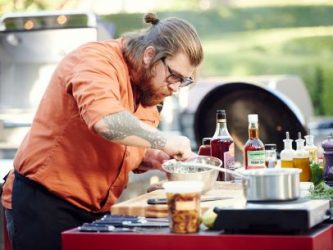 One of our favorite Cleveland Chefs survived the "chopping block" on one of my favorite Food Network shows, Chopped.  Chef Jonathon Sawyer of The Greenhouse Tavern won $10,000 on Chopped Grill Masters, the five-part grilling and barbecuing tournament that took place in the Beringer Vineyards in Napa Valley. This also secures him a  spot in the finale, where he'll have a shot at winning an additional $50,000 and will  face the next three Chopped Champions.
The show is famous for their unusual and exotic food baskets. During the 3 rounds, each chef receives a basket and is required to use every ingredient in the basket. Imagine cooking with the ingredients below!
Appetizer Round 
Ingredients: octopus, fruit pops, purple cauliflower, Italian sausage
Jonathon's dish: Sweet and Savory Octopus with Mesquite-Grilled Cauliflower.
Entree Round
Ingredients: veal chops, pickled smoked okra, watermelon radishes, nachos
Jonathon's dish: Oaxacan Block Party Veal Chop
Dessert Round 
Ingredients: honey gelato cones, petimezi, pineapple, Anaheim chiles
Jonathon's dish: Hot and Spicy Pineapple with Cannoli Cream and Almond Crumble
(or as he called it "high-class cereal.")