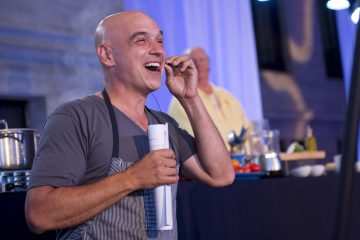 Mark Your Calendars for
the 2015 Chef Gala on Saturday, August 6, 2016
You DO NOT Want to Miss this Extraordinary Benefit Event!
Who is cooking? Only over twenty of Cleveland's renowned chefs including Michael Symon with pal Bobby Flay from New York City's Mesa Grill, Douglas Katz, Jonathon Sawyer, Dante Boccuzzi & Kelly Ofandiski, Steve Schmoler, Karen Small.
Who will entertain you? Chef Michael Symon and pal Bobby Flay, fellow competitor on Food Network's "Iron Chef," will treat you to an interactive dinner demonstration.
What can you win? Wouldn't you like to know! We'll give you a hint…there will be some culinary packages that you won't be able to pass up.
Who is going? Oh, only like 700 of the coolest people in Cleveland.
Who does the event benefit? Autism Speaks is the world's leading autism science and advocacy organization.
How Can You Can Help? Make reservation. Donate an auction item. Volunteer at the Gala. Make an in-kind donations of goods and services.
Tickets: Tickets are $250 and include 2 drink tickets, complimentary valet, tastings from the Cleveland chefs, and family style service during the interactive dinner demonstration.