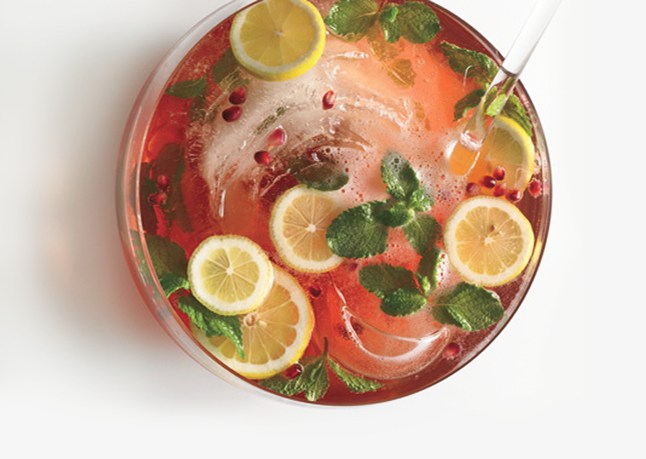 This punch recipe is a definite crowd pleaser!  I like serving it during the holidays because the red pomegranate seeds and green mint leaves make it so festive.  And it gives me a reason to use my beautiful punch bowl set.
Simple Syrup ingredients:
1/2 cup water
1/2 cup sugar
Bring the water and sugar to a boil in a small saucepan, stirring until sugar dissolves. Simmer for five minutes.  Cool syrup completely.
Punch ingredients:
2 – 750ml bottles of chilled brut champagne
1 and 1/2 cups of white rum
1 and 1/4 cups of pomegranate juice
1 large lemon thinly sliced
pomegranate seeds
fresh mint leaves
1 ice block
Combine champagne, rum, and pomegranate juice in punch bowl.  Add enough syrup to sweeten to your taste.  Mix in lemon slices, pomegranate seeds, and mint leaves.  Add ice block to bowl.
I prepare the simple syrup the day before.   And remember to freeze your ice block ahead of time.
Pour and enjoy!! 
---
Try One of Our 10 Favorite Festive Cocktails