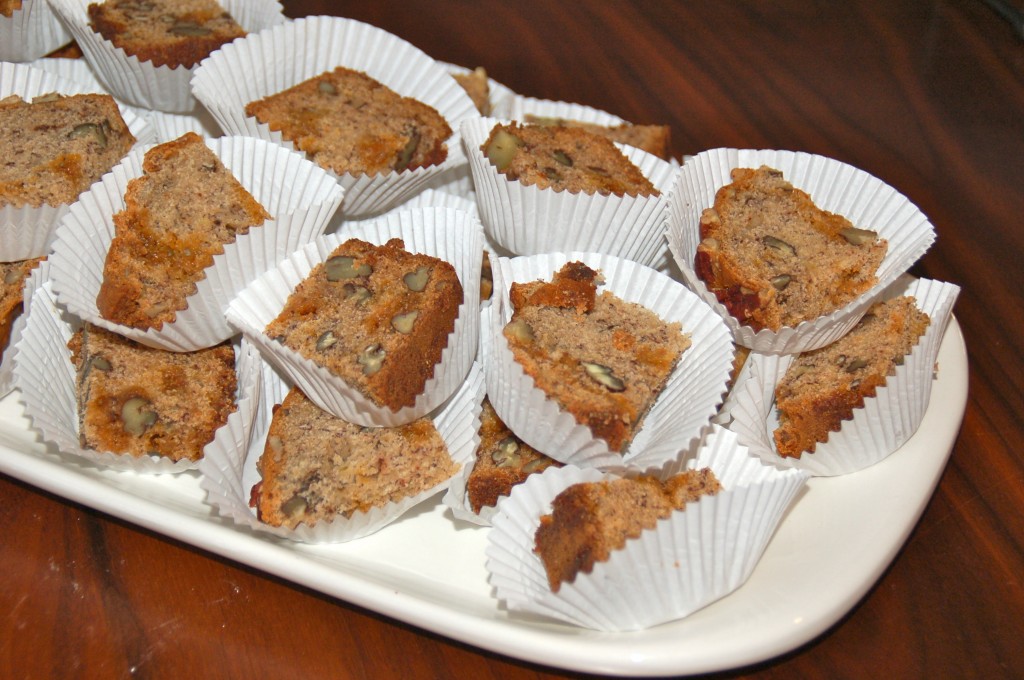 photo by Emily S. Downs

OMGoodness!  Best served for either breakfast, snack or dessert!  Actually… any time of the day will do.

Size:

makes 2 loaves



Ingredients:
3 1/2 cups unsifted flour
4 tsp baking powder
1 tsp baking soda
1 tsp cinnamon
1 tsp nutmeg
1 tsp salt
2 cups ripe mashed bananas (4-6)
1 1/2 cups sugar
2 eggs
1/2 cup butter, melted
1/2 cup milk
2 2/3 cup chopped pecans, divided (2 cups go into batter, 2/3 cup on top)
1 12 oz package (2 cups) Nestle butterscotch morsels



Directions:




Preheat oven to 350F.  Grease and flour two 9 x 5 x 3″ loaf pans.

In a small bowl combine flour, baking powder, baking soda, cinnamon, nutmeg, and salt.  Set aside.

In a large mixing bowl combine bananas, sugar, eggs, and butter.  beat until creamy.  Gradually add flour mixture alternately with milk.  Mix until well blended.  Stir in pecans (2 cups) and butterscotch morsels.

Pour batter equally into the two loaf pans.  Sprinkle tops with remaining 2/3 cup of pecans.  Bake 60-70 minutes.  Cool 15  minutes.  Remove from pans.