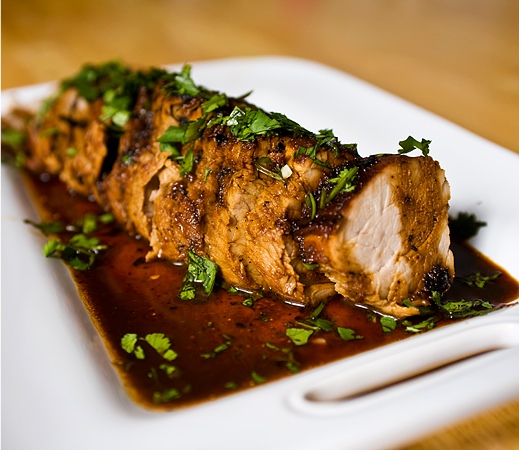 photo: chaosinthekitchen.com

What's not to like about a juicy, flavorful, tender, grilled pork loin? Very easy to prepare! Just leave enough time to have the loins marinate for at least 12 hours, or overnight.

Size:

6 servings



Ingredients:
2 1/2 lbs pork tenderloin
3/4 cup soy sauce
1/2 cup bourbon
1/4 cup Worcestershire sauce
1/4 cup water
1/4 cup canola oil
4 garlic cloves, minced
3 tbsp brown sugar
2 tbsp ground black pepper
1 tsp white pepper
1/2 tsp ground ginger
1 tsp salt
Garnish: fresh parsley sprigs



Directions:




Rinse tenderloins, and pat dry.

Combine soy sauce and next 9 ingredients in a large zip-lock plastic freezer bag or shallow dish; seal or cover, and chill at least 12 hours (I marinate overnight).  Remove pork from marinade, discarding marinade.  Sprinkle evenly with salt.

Grill (covered with grill lid) over high heat (400 to 500F) 30 minutes or until a meat thermometer inserted into thickest portion registers 155F, turning occasionally.  Remove from heat; cover with aluminum foil, and let stand 10 minutes or until thermometer registers 160F.  Garnish, if desired.