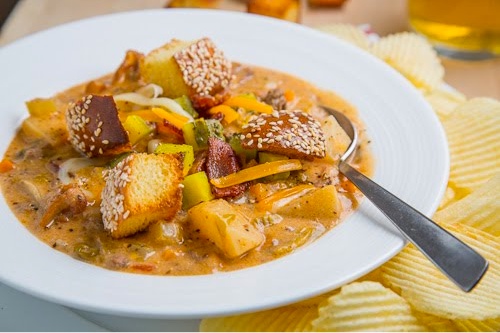 closetcooking.com

If you're a fan of cheeseburgers and enjoy a good hearty soup, then this is the dish for you.   Loaded with components that make up the ultimate cheeseburger but in a chunky delicious soup (thanks to closetcookingcom).

Size:

4 servings



Ingredients:
1 lb ground beef
8 slices bacon (preferably smoked), cut into 1" pieces
1 onion, diced
2 carrots, diced
2 celery stalks, diced
1 jalapeno, seeded and finely diced
2 cloves garlic, chopped
1/4 cup flour
2 cups beef broth
1 (12 oz) bottle/can beer
1 large yukon gold or other boiling potato, peeled and cut into bite sized pieces
2 tbsp ketchup
1 tsp dijon mustard
1 tbsp worcestershire sauce
1 (14.5 oz) can diced tomatoes
2 cups lettuce, shredded
1 cup milk
1 cup cheddar, shredded
1 cup mozzarella, shredded
Cayenne pepper to taste
Salt and pepper to taste
1 tbsp bacon grease oil
2 hamburger buns, cut into 1" cubes
4 tbsp pickle, diced



Directions:




Cook the ground beef in a large sauce an over medium heat, about 8-10 minutes, and set aside.

Cook the bacon in the pan, about 5-7 minutes, and set aside on paper towels reserving about 2 tablespoons of the bacon grease int the pan and 1 tablespoon for later.

Add the onions, carrots, celery and jalapeno and cook until tender, about 10-15 minutes.

Add the garlic and cook until fragrant, about a minute.

Mix in the flour and let it cook for 2-3 minutes.

Add the broth, beer, bacon, beef, potato, ketchup, mustard, worcestershire sauce and tomatoes, bring to a boil, reduce the heat an simmer until the potatoes are tender, about 10-15 minutes.

Add the lettuce, milk and cheese and cook until the cheese has melted without bringing it back to a boil.

Season with cayenne, salt and pepper.

While the soup is cooking, toss the bun cubes in the reserved 1 tablespoon of bacon grease and bake in a preheated 400F oven until lightly golden brown, about 10 minutes, turning half way through.

Serve garnished with the croutons and pickle.