Take your significant other to a romantic, outdoorsy winter lodge. These winter retreats combine just the right mix of ambiance and adventure, though they vary in activities, they are all cozy and inviting.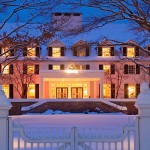 Woodstock Inn and Resort
Woodstock, VT
The Woodstock Inn is truly the sweetest place to stay in Woodstock, VT.  It's located right across from the famous town green, one of the oldest in the country and within walking distance of the town's many shops and other quaint establishments. The Inn has both a rustic charm and a contemporary elegance. There is an intimate feel with a very happy and cordial staff. However, the Inn has the superb facilities that normally accompany a much larger hotel. The Woodstock Inn has its own lovely ski resort, (Suicide Six), three restaurants, two bars, a beautiful brand new 10,000 sq. foot spa, a racquet and fitness facility (with squash, swimming pool and tennis courts), a golf club, and even associated riding stables and trails. If you are looking for idyllic country elegance book a trip to this charming town and lovely resort.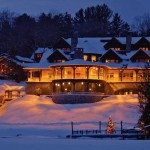 Lake Placid Lodge
Lake Placid, New York
Lake Placid Lodge is the only hotel on Lake Placid, and guests must be 13 years or older. It is balanced on the edge of village and forest, and has wide porches, high windows, grand outdoor fireplaces, and paths wandering off into the woods embrace the magnificence of nature. Its beams are hewn by hand, its rooms filled with art and antiques, its beds were carved by local artisans, and its fifty stone fireplaces laid piece-by-piece by Adirondack masons. Built by hand in the "Arts and Crafts" tradition, the Lodge houses thirteen rooms and seventeen luxurious cabins at the water's edge. Each room has a fireplace at its heart and wilderness visible through its diamond paned windows.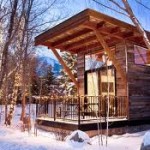 Fireside Resort Jackson Hole
Jackson Hole, WY
Just 5 1/2 miles from Teton Village, the cabins at Fireside Resort Jackson Hole have all the wintry musts, fireplaces, pillow-top mattresses, and decks big enough for snow gear in a compact, eco-conscious package. The siding is reclaimed snow fencing from Interstate 80; the hardwood floors are made from Douglas fir deadwood; even the ceilings are recycled barn wood. The 25 cabins are close together, but they're so well designed, with a glass doorway and high windows that let in lots of light, that your neighbors seem to disappear once you step inside. For extra privacy, they're angled to maximize views of the woodsy property. The resort supplies firewood and s'mores kits for use at the shared campfires. When you're ready to reenter civilization, free ski shuttles run on the hour.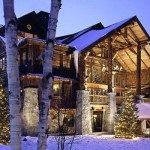 The Point
Saranac Lake, NY
The Point, an 11-room property that was a Rockefeller Adirondack Great Camp back in the day is tucked mysteriously on the edge of Lake Saranac in Adirondacks. Everything from the hefty price tag to its beautiful, isolated location, to a blue-blooded history has sustained the place's reputation as the pinnacle of high living. All the rooms have working fireplaces and fires are ready-made for guests. The sumptuous beds offer fluffy mattresses, down featherbeds and plenty of space. They also provide guests with the ultimate civilized wilderness experience. Cross-country skiing on snow-covered Upper Saranac Lake, downhill skiing on Whiteface Mountain, ice skating on the lake, snowshoeing through the magical wintry landscape, even ice fishing. The chef at The Point will prepare your catch for you. Most fun of all: the snow barbecues out on the point. Wear warm clothes and get geared up for an unforgettable lunch.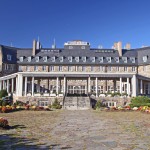 Skytop Lodge
Skytop, PA
For a secluded, romantic weekend getaway, surround yourself with nature and enjoy a place where you can focus on just the two of you. Skytop Lodge in the Poconos of Pennsylvania is that kind of place. The resort is enveloped by natural wonders like waterfalls, visited by wildlife like deer and squirrels, and painted in the most beautiful colors as every season arrives. Winter at Skytop Lodge is better than ever from downhill skiing and snowboarding on a private ski mountain to dog sledding and tobagganing to ice skating and snow-shoeing.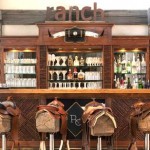 Triple Creek Ranch
Darby, MT
Triple Creek is a service-driven, adults-only property located in Montana's Bitterroot Mountains. The 600-acre landscape has 23 plush log cabins, each outfitted with cozy touches like wood-burning fireplaces, hot tubs, and locally woven woolens. Itineraries are tailored to guests' interests and can include dinners at the chef's table, wine tastings, and helicopter tours.