New Jersey's Six Flags Great Adventure entertainment complex will undergo its most dramatic transformation in 13 years. The 160-acre theme park and 350-acre Wild Safari animal park unite as one property to become the world's largest theme park. The mega-park, will introduce the new, one-of-a-kind, themed attraction, Safari Off Road Adventure.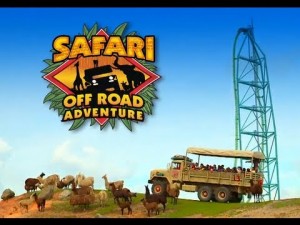 Boasting 1,200 animals from six continents (including lions, tigers, rhinos, and many more), Safari Off Road Adventure will take you on the most intense, up-close animal experience of your life. First you will enter the amazing, fictional world of the Wilds Family, who have traveled the globe to bring the most interesting and exotic creatures to their home in Jackson, New Jersey. Once through the rustic loading station filled with artifacts from the Wilds' global journeys, you will hop onto a rugged, open-air, Safari vehicle with 34 other explorers to begin your wild adventure.
Skilled, informed drivers will drive you off-road and up close to the animals as they splash through ponds, climb hills, cross bridges and venture over rugged terrain.
"Never before have guests been able to experience a journey so close to that of a true African safari here in the U.S.," said John Fitzgerald, park president. "By combining the world's most exotic animals with Six Flags' signature entertainment, the Safari Off Road Adventure will be the most incredible animal adventure anywhere.
Camp Aventura will be the main stop along the off-road excursion. Here you will get to see some of the Wild family's favorite animals up-close, and even hand-feed or pet them. You can also choose to fly through the air high above the animals on a new zip line for an additional fee.