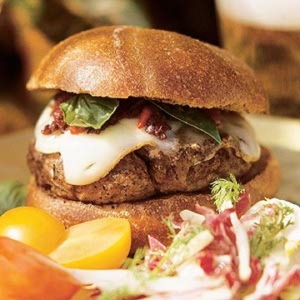 Something special happens when you take a bite into this juicy burger. An explosion of flavors lending an experience you'll want to share the next time you entertain. Freshly ground beef is grilled, covered with smokey mozzarella cheese, topped with sweet and savory red pepper relish, then finally sandwiched between two toasted whole wheat buns.

Size:

4 servings



Ingredients:
1/2 cup purchased roasted red pepper, cut into strips
1 tbsp finely chopped pitted ripe olives
2 tsp olive oil
2 tsp snipped fresh thyme or 1/2 tsp dried thyme, crushed
1/4 tsp pepper
1/4 cp finely chopped onion
2 tbsp fine dry bread crumbs
2 tbsp Ketchup
1 tbsp prepared horseradish
1 tbsp prepared mustard
1/4 tsp salt
1/4 tsp pepper
1 lb extra-lean ground beef
4 slices smoked or regular mozzarella cheese
4 whole wheat hamburger buns, split and toasted
Fresh basil leaves



Directions:




RELISH: Combine red sweet pepper strips, ripe olives, olive oil, thyme, and 1/4 teaspoon pepper in a food processor bowl. Cover and process with several on-off turns, until coarsely chopped. Cover and chill until ready to serve.

BURGERS: Combine onion, bread crumbs, Ketchup, horseradish, mustard, salt, and 1/4 teaspoon pepper in a medium mixing bowl. Add ground beef; mix well. Shape the meat mixture into four 3/4″ thick patties.

Grill patties on the rack of an uncovered grill directly over medium coals for 14 to 18 minutes or until internal temperature of burgers reaches at least 160F with an instant-read thermometer, turning once halfway through cooking. Top each patty with a cheese slice the last 2 minutes of grilling.

Serve each burger on a toasted whole wheat bun with fresh basil leaves and 1 tablespoon red sweet pepper relish.