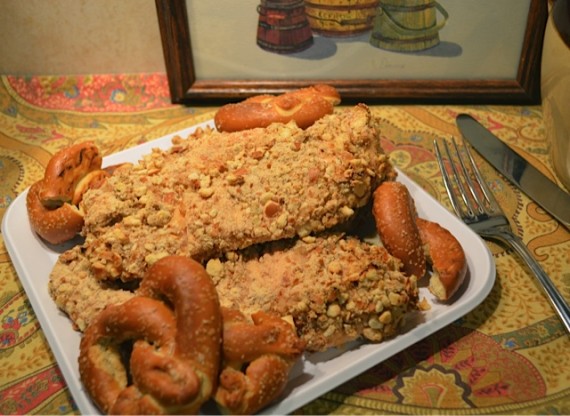 prepared by and photo by Emily S. Downs

Breaded chicken breasts take on a new twist… pretzel twist that is. The classic combo of a pretzels and mustard give plain old chicken breasts a much needed make-over. The kids will like helping to make and eat them!

Size:

6 servings



Ingredients:
1/2 lb hard pretzels, coarsely crushed (about 4 cups)
1/2 cup canola oil
1/2 cup whole-grain mustard
2 tbsp Dijon mustard
1/4 cup water
3 tbsp red wine vinegar
Salt and freshly ground black pepper
6 large boneless, skinless chicken breasts



Directions:




Preheat oven to 400F. In a food processor, pulse the pretzels until coarsely ground; you should have fine crumbs and large chunks. Transfer to a shallow bowl.

Wipe out the processor and add the oil, whole-grain and Dijon mustards, water, and vinegar and process until smooth. Season with salt and pepper.

Pour half the dressing in a large, shallow bowl, add the chicken breasts, and turn to coat. Dredge the chicken in the pretzel crumbs and transfer to a rack set over a rimmed baking sheet. Bake in the upper third of the oven for 20-25  minutes, or until cooked through.

Serve the chicken, passing the remaining mustard sauce on the side.