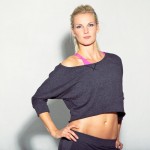 Truth be told, no one comes to me for fashion advice, UNLESS you're looking for good functional, quality clothing that you can exercise in and then maybe run some errands too. Long gone are the days of wearing your faded, ratty old cotton "Frankie says Relax" Tee and stained sweats for exercising. Fitness has led to a whole new genre of fashion and style, and one that I can finally relate to. Below are some of MY fave fitness "go-to's":
Lululemon – doing it right for about a decade, new styles focus on yoga, running and new- golfing. FYI – their tops are generally longer which is great if you have a long torso and not interested in showing your belly button (me) and I wore these all throughout my pregnancy without exposing the baby belly.
Athleta – This GAP affiliate has a wide selection for many types of sports, workout and fashion styles. Find running gear from tights to skirts, yoga, cycling, golf, tennis, hiking, high intensity workouts and comfy, yet cute clothes for light travel. FYI – use your GAP (or similar) card and rewards when purchasing.
Title Nine – still small but slowly building, this is a great place to find clothes for the truly active/outdoors woman. They have fantastic swimsuits that are fashionable while staying functional. They take their bras (sports and otherwise) very seriously with a whole section (Bounce) dedicated just for the girls. Find fashion for running, yoga, cycling, swimming, hiking, camping and traveling. They sell other clothing brands such as Horney Toad and Mountain Hardware. FYI – the annual $5 membership entitles you to free shipping.
Ellie – A newbie on the fitness fashion scene with a concentrated focus on just a few new styles each month. The styles are great for running, yoga and gym workouts. FYI – Use their "personal shopper" questionnaire for suggested outfits best for your style. A membership gives you a very good deal on their monthly fashions IF you plan to buy that often. But membership is not needed to purchase.
Shakti Activewear – If yoga is your thing – especially Hot Yoga, this is the site for you. New styles are introduced often and you can choose from full coverage, to very little, to somewhere in between.
NIKE– You can't go wrong here with the variety and options to find fitness apparel -whatever your game – NIKE has it covered.