Upcoming Events for Teens at Ridgewood Public Library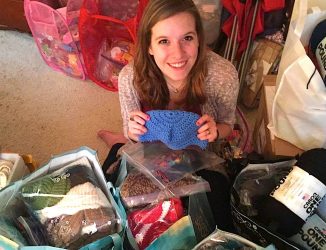 Loom Knitting: Mad Hatters for Charity
Monday, July 11 and Wednesday, July 13  •  4pm
Emily Kubin has been making a difference in the world, one hat at a time. In total, (as of July 2014) Emily has made, collected and donated over 14,000 winter hats! This number does not include the hats donated by her spinoffs nor the hundreds of scarves, afghans, etc that she has donated. In December 2011, Emily, who was just 17, realized she could help the homeless & working poor in her community of Morristown, NJ, by knitting winter hats for them. On December 27, 2011, Emily's Hats For Hope Initiative (EHFHI) was born.
Loom-knit winter hats for the "Emily's Hats for Hope" charity!
Instruction and looms will be provided
Bring: chunky yarn
Register here.
Teen Takeout D.I.Y.
Available Tuesday, July 12 
Ridgewood Public Library cardholders grades 6-12 can pick up special DIY packages!
Packages include everything necessary to create a unique creation
Available only while supplies last
Drop-In Games Day
Friday, July 15  •  3pm
Challenge family and friends to a selection of games!

A summer activity perfect for teens and their families
Teen Cooks Unite: Veggie Tamales
Monday, July 18  •  7pm
Teens can explore their culinary talents as they cook Veggie Tamales (yum!)
Register here.
Shakespeare in the Park
Sunday, July 17, 2016  •  1:00pm – 4:00pm
Join the Ridgewood Chamber of Commerce and Porch Light Productions for a night of comedy and entertainment at Memorial Park (Van Neste Square). You will not want to miss, "The Complete Works of William Shakespeare: Abriged." The players will perform ALL 37 of Shakespeare's works in just 97 minutes! Prepare to be entertained! Admission is FREE!
What to bring: blankets, chairs, umbrellas, hats, and refreshments to stay cool…