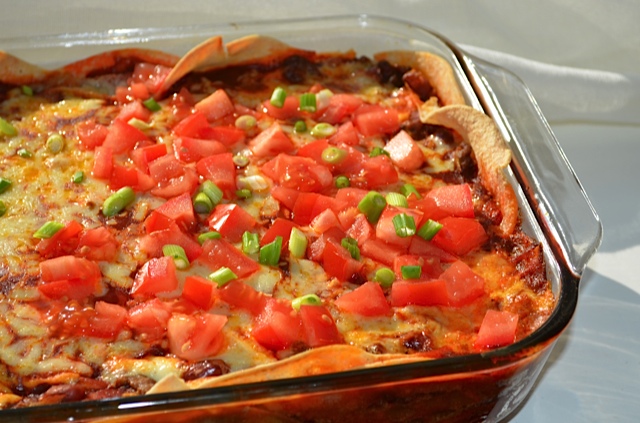 prepared by and photo by Emily S. Downs

Size:

makes 8-10 servings



Ingredients:
12 oz lean ground beef
1 large onion, chopped (1 cup)
1  1/2 tsp chili powder
3/4 tsp ground cumin
2  15-oz cans pinto beans, rinsed & drained
2  4-oz cans diced green chile peppers, undrained
1  1/2 cups sour cream
3 tbsp all-purpose flour
1/2 tsp garlic powder
12  6" corn tortillas
2  10-oz cans enchilada sauce
1 cup shredded cheddar cheese (4 ozs)
Chopped tomato & sliced green onion for garnish



Directions:




Preheat oven to 350F.  Lightly grease a 3-qt rectangular baking dish; set aside.  In a large skillet, cook the ground beef and onion until meat is cooked through, breaking up meat as it cooks; drain off fat.  Stir chili powder and cumin into meat mixture; cook and stir for 1 minute.  Stir pinto beans and undrained chile peppers into meat mixture; set aside.

Stir together sour cream, flour, and garlic powder; set aside.

Place half of the tortillas in the prepared baking dish, cutting to fit and overlapping as necessary.  Top with half of the meat mixture, half of the sour cream mixture, and half of the  enchilada sauce; repeat layers.  Cover dish with foil.

Bake for 35-40 minutes or until heated through.  Uncover; sprinkle with cheese.  Bake for 5 minutes or until cheese melts.  If desired, garnish with chopped tomato and sliced green onion.