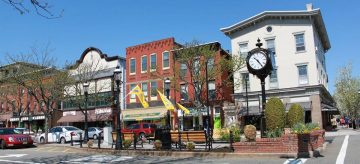 Were you aware several downtown Madison businesses are beginning to extend their hours on Thursday evenings? Some retail stores and restaurants throughout town are now open later on Thursdays, making it easier for those unable to enjoy all that Madison has to offer during normal business hours.
If you grew up in the area you might remember that years ago residents and visitors often took advantage of Thursday's "late night".  Which is why I'm happy that the Madison Chamber of Commerce took the initiative to reinstate this local tradition.  Many businesses are already participating.
*Check for hours of operation before visiting your favorite business in town.
Also let us not forget that Tuesday's Senior Discount Day in downtown Madison remains intact. Shoppers 62 and older are eligible. Look for window decals at participating businesses. And when shopping check for details on ways to save on purchases.
Click here for a list of businesses with senior discount day offers.