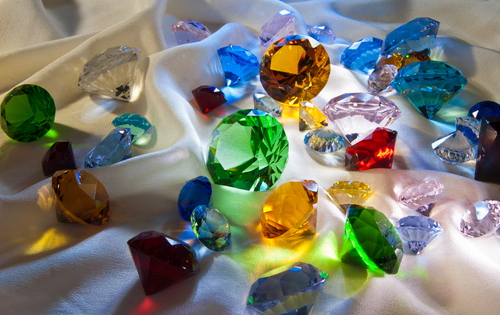 Each month is represented by a gemstone or birthstone. There are different types of birthstones assigned for each month. They are said to have special characteristics and powers to help the individual, born on a particular month, in his or her life.  What does your birthstone do for you?
January:  A fiery royal stone, January's garnet is a sign of passion, good luck, and motivation. Wear the royal garnet to stimulate the senses and increase vitality.
February:  A stone of wisdom, February's amethyst draws forth one's intuition in order to bring clarity to emotions, feelings, and values. Wear amethyst to ward off guilt and fear allowing calm to break through.
March:  The most powerful meditation stone, March's aquamarine brings great peace, serenity, and harmony. Wear aquamarine to clear the mind and build courage.
April:  Known as a stone of affection, April's crystal is associated with independence, youth, and enthusiasm. Wear the crystal to exclude passion in all endeavors and to maintain powerful inner strength.
May:  A sacred stone of the goddess Venus, May's emerald is thought to preserve love. A symbol of hope, wear the emerald to grow spiritually and to seek inner wisdom.
June:  A protective amulet, June's light amethyst is used as a guard against fear and uncertainty. Signifying courage and empowerment, wear light amethyst as a symbol of confidence.
July:  A symbol of vitality and royalty, July's ruby is the most powerful of all gems. Symbolizing deep love and passion, the ruby is known to bring peaceful contentment to the owner.
August:  A power stone, August's Peridot fosters emotional balance and the strength to create a bright future. Known also as the evening emerald for its light green color, Peridot is a symbol of opportunity and prosperity.
September:  Known as the stone of destiny, September's sapphire is a symbol of optimism and serenity. Wear sapphire to clear your mind of clutter and to embrace fate.
October:  Known as the love stone, October's rose allows the wearer to continually give affection and express adoration. Wear the Rose birthstone to motivate kindness, forgiveness, and compassion.
November:  Known as the stone of true love and success, November's topaz is said to encourage self-realization and confidence. Wear topaz for increased strength and intellect in matters of the heart.
December:  A stone of stability, December's blue zircon has been known to promote wisdom and uplift the mind. Wear blue zircon to promote spiritual growth, optimism, and prosperity.