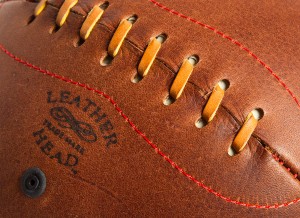 If you're looking for a beautiful and interesting gift for the true sports fan in your life, you need to check out Leather Head Sports. It's truly one of the most unique companies I've come across, and it's based right around the corner in Glen Rock. The founder, Paul Cunningham, has created a line of handsomely handmade baseballs and footballs. With old world craftsmanship and meticulous attention to detail, he has carved out a niche in distinctive, finely crafted American leather goods. J. Crew, Ralph Lauren and Red Envelope are also clients of Leather Head Sports and periodically sell Paul's products. One of his footballs was even used as a prop in the film 'Silver Linings Playbook'. I sat down with Paul to learn more about him and his cool products.
How long have you been in business?
Leather Head Sports started in my home as a hobby business in 2006.  The early success that I had selling hand made leather baseballs encouraged me to start designing and making other leather sports items.
I've grown steadily since then.  It was during the summer of 2011 that the business out grew my home and I moved into commercial space on Broad St. in Glen Rock. Currently I employ 8 people who help me make an array of hand crafted leather balls.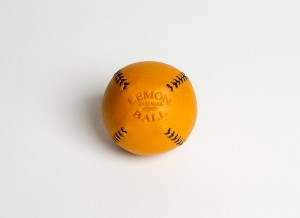 What was the impetus for starting Leather Head? My interest in leather work took root shortly after I graduated from college.
I was a baseball player through college, and was fortunate to also work for the research library of the Baseball Hall of Fame in Cooperstown, NY. While working for the Baseball Hall of Fame, I joined a group that played an early precursor to baseball called town ball.  The ball we played with was similar to a modern baseball, but the stitch pattern was different. This ball was referred to as a lemon peel baseball.  At the time, these were hand made, and not commercially available.  I was fascinated with this style of baseball, so I bought some leather and figured out how to make them myself. Soon after that I moved to New York City and began working in the photo industry.  At that point, I was focused on my career and my leather hobby was abandoned.
Eventually, I did return to my leather hobby and turned it into the business that it is now. Ultimately, my interest in leather ball making comes from a love of playing sports and a love of sports equipment.
Who is your ideal customer?
My customers are people with a strong aesthetic sense, and an appreciation for well made things.
Many of my customers purchase my items for gifts.  I hear over and over again how happy the recipients are with the balls we make.
They are purchased as baby gifts, grooms gifts and retirement gifts, so there is wide appeal.  The common thread is a love of sports.
What do you enjoy most about the business?
There is so much I love about running this business.
It was the design craftsmanship that drew me into it, and I'm very proud of the positive response. Ultimately though, I most enjoy spending time with my employees.
They're really talented, hardworking and dedicated, and they're also a fun and happy group.
What are your biggest challenges?
Keeping up with growing demand has been my biggest challenge. I started off thinking that my business would be a nice hobby. As it evolves I'm doing things that I didn't anticipate, like renting commercial space, and hiring employees.
I'm trying to continue to grow the brand so that I can support my people. I'm also trying to stay focused on craftsmanship and customer service.
Where do you see the business headed in the future?
I expect to continue to grow.
Baseball is my first love, and I have a special appreciation for baseball gloves.
I'm in the process of launching a baseball glove line with my friend Jeff Bradley, a nationally prominent sports writer. Jeff's brother Scott is the head baseball coach at Princeton and a former Major League catcher.
Through Jeff's knowledge and contacts, we are going to introduce a line of gloves geared for elite ball players.
Paul and his crew can even create custom items with a name, a logo, or a message laser-engraved onto the ball or glove. Footballs and baseballs are also available in a variety of colors. Visit
leatherheadsports.com