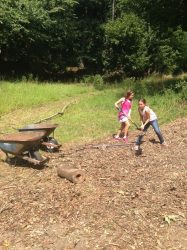 Hillside Trail – Chatham Township opening on Saturday, October 22
Chatham Township is proud to announce that the new Hillside Trail will be open to the public starting Saturday, October 22nd, at 10:30AM. Township officials and volunteers will be on hand for a dedication ceremony to be held from 10:30-10:45.
The figure 8 trail runs for about a third of a mile, making it ideal for everyone to visit and enjoy.   Along the trail visitors will discover several species of trees, wildflowers, insects, birds, and wildlife.
For more information and photos about the new Hillside Trail visit their Facebook