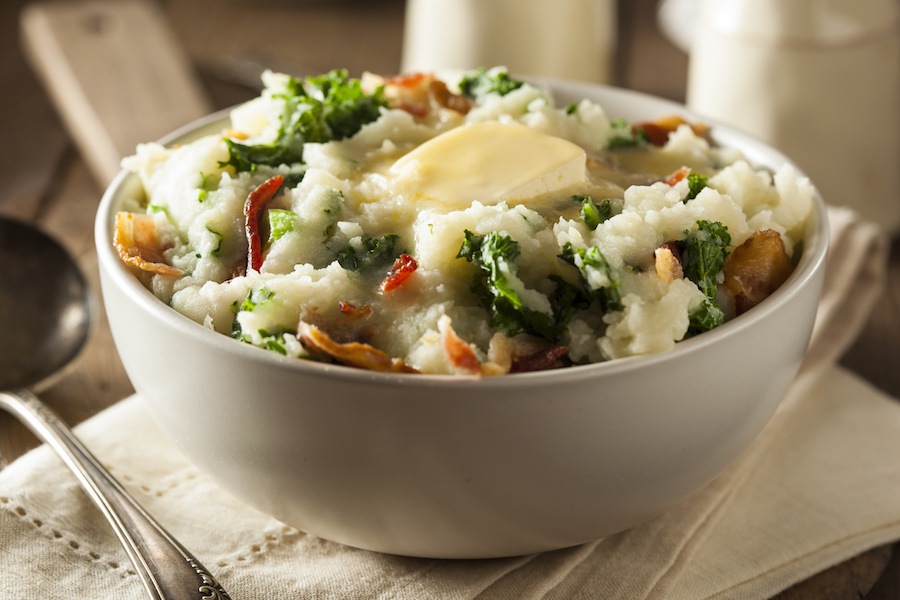 What is Colcannon? It's a creamy, buttery traditional Irish side made with mashed potatoe and cabbage that tastes killer with a plate of corned beef.
Ingredients
3 lb potatoes
2 sticks butter (yes, 2)
1 1/4 cups warm milk
Freshly ground black pepper
1 head cabbage, cored and finely shredded
1 lb cooked bacon chopped into small pieces
4 scallions finely chopped
Chopped fresh parsley
Directions
Steam the potatoes in skins for 30 minutes. Peel potatoes and then chop a little before mashing. Mash until all the lumps are gone.  Add 1 stick of butter in pieces. Gradually add warm milk and as you continue stirring. Season with a little black pepper.
Boil cabbage in unsalted water until it turns dark in color. Add 2 tbl of butter and cover with a lid for 2 minutes. Drain thoroughly and then return to the pan. Chop into small pieces.
Add cabbage, scallions, and bacon to mashed potatoes and stir to mix.
Serve on plates and make a small indentation where you can add 1 tablespoon of butter to each. Then sprinkle with parsley and serve with corned beef!