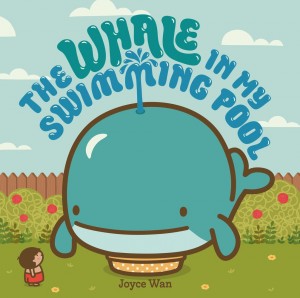 By
Joyce Wan
Rating:
Purchase:
Buy Now!
If it were up to author/illustrator Joyce Wan, everything would be "cute, round, and chubby." Ms. Wan's illustrations are just that – featuring chunky lines, bright colors, and smiling characters so cheerful and round you could just squish them. In her latest book, The Whale in My Swimming Pool, a young boy excitedly runs outside to go swimming – only to discover that his pool is already occupied. By a whale (and yes, this is one cute, round, and chubby whale). The boy tries everything he can think of, but the whale is not interested in giving up his pool. Finally, he realizes that instead of trying to move the problem, he can adapt to it and hits upon an ingenious solution – just in time for naptime. But wait – who is that snoring in his bed?
Ms. Wan is inspired by Japanese pop culture, modern architecture, and everyday things that make her smile. In addition to The Whale in My Swimming Pool, she has written many adorable board books for babies and toddlers, and through her studio Wanart, Ms. Wan also creates greeting cards that are sold internationally.
By Sally Morgan, owner of The Curious Reader in Glen Rock, NJ
Please join us for a special event with Joyce Wan on Saturday, May 2! 
Storytime will begin at 11:00AM, and Ms. Wan will autograph books after.