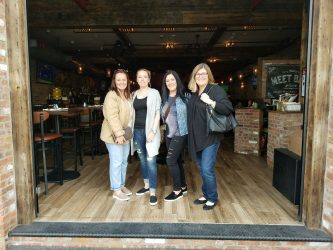 That Meetball Place is an amazing new addition to Farmingdale's Main St.  The primary focus?  You guessed it, balls!  From the play on the word "Meet" to it's inviting atmosphere, there is no better place to bring your friends, family, or even that special person in your life for a great time.  The front of Farmingdale's newest establishment is a garage door style entryway that let's in lots of sunlight and warm air.  The restaurant leaves you feeling warm and cozy with its rustic bar tables and inviting brick walls.  I had the pleasure of lunching here with 3 of my closest friends and we were lucky enough to meet John, the head chef.  His down to earth attitude just added to the relaxed, comfortable vibe we already were all feeling.  Customers are encouraged to join the Meetball Place family by bringing in photographs of someone special in their own kitchen.  This is their way of making "Grandma" a part of the TMPF family.  
TMP menu offers choices that will satisfy anyone's palate.   I started with a dangerously delicious Blue Lemonade cocktail that I could have guzzled down in minutes. It's hard to imagine that a restaurant whose main theme is the meatball would have so many options, but TMP has done wonders with their balls!  There is something for everyone whether you're a meatball purist or a vegetarian, rest assured, you won't be disappointed.  As I often try and take the meatless route, I chose the enticing eggplant pesto ball.  It comes with 4 steaming hot balls filled with roasted chunky eggplant, mozzarella and pesto.  You can personalize your order by choosing from an array of savory sauces.  With so many options, it might be hard to make a decision, but no worries! You can get the TMP Sampler where you pick 3 different balls each with its own dipping sauce.  This is the perfect option for those who usually spend their whole meal wishing they had what their friends ordered!
We finished off our meal with a decadent dessert.  The chef prepared a heavenly, mouthwatering brownie served on a skillet with ice cold vanilla ice cream.  The four of us sharing this dessert was the perfect ending to a fantastic afternoon.
My Suggestions:
Looking for a fun night out?  Check out TMP's live bands every Thursday – Saturday evening

Interested in a tamer experience, definitely check out Sunday brunch!

Had a rough day at the office?  Monday – Friday happy hour 11AM – 7PM and make some new friends at their communal tables!
Celebrate National Meatball Day on MARCH 9, with TMPs very own meatball eating contest!  Gorging on meatballs not for you? Then enjoy all you can eat meatballs and pasta for just $19.99!  
Visit That Meetball Place, 206 Main St., Farmingdale, NY 11735