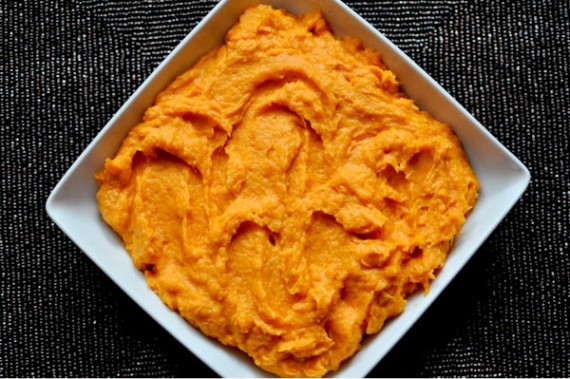 What do you get when you serve sweet potatoes and a topping of sweet and spicy Rice Krispie treats? An empty serving bowl. Maybe this will finely be the way to get everyone to eat these underrated orange potatoes… (foodandwine)

Size:

serves 12



Ingredients:
5 lbs medium sweet potatoes
3 cups Rice Krispies
1/4 tsp baking soda
1/4 tsp kosher salt, plus more for seasoning
1/8 tsp cayenne, plus more for seasoning
1/2 cup plus 2 tbsp sugar
6 1/2 tbsp unsalted butter, plus more for serving
1/4 cup heavy cream
1/2 tsp finely grated orange zest
Freshly ground black pepper



Directions:




Preheat the oven to 350F and line a large rimmed baking sheet with foil. Prick each potato all over with a fork and transfer to the baking sheet. Bake the potatoes until tender, about 1 hour; turn the potatoes over halfway through baking. Let cool slightly.

Meanwhile, lightly coat a large rimmed baking sheet and 2 large spoons with nonstick cooking spray. Lightly coat a large heatproof bowl with nonstick cooking spray and put the Rice Krispies in it.

In a small bowl, mix the baking soda with the 1/4 teaspoon of salt and 1/8 teaspoon of cayenne.

In a medium saucepan, combine the sugar with 1/2 tablespoon of the butter and 1/4 cup of water and bring to a boil, stirring until the sugar dissolves. Boil over moderately high heat, swirling the pan occasionally, until a golden caramel forms, about 7 minutes. Remove from the heat and stir in the baking soda mixture; the caramel will foam. Immediately drizzle  all of the hot caramel over the cereal and, using the 2 greased spoons, quickly toss to coat. Spread the topping on the prepared baking sheet in an even layer and let cool completely, then break into pieces.

Scoop the sweet-potato flesh into a food processor. Add the remaining 6 tablespoons of butter and the cream, orange zest and a generous pinch of cayenne and puree until smooth. Season with salt and black pepper. Transfer the sweet potatoes to a serving bowl and dollop with additional butter. Serve, passing the crispy topping at the table.

* the pureed sweet potatoes can be refrigerated for 2 days; reheat gently before serving.
** the crisp rice topping can be stored in an airtight container for 1 week.