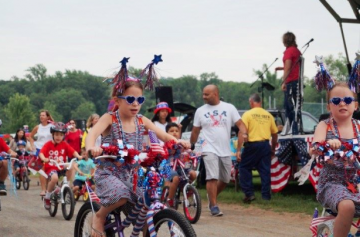 Get our your streamers and crepe paper and get ready to decorate! It's time to get ready for Summit's Fourth of July celebration including favorites like the Children's Decorated Bicycle Parade and the Grand Fireworks Display.
New this year, a Food Truck Festival will welcome a variety of vendors from throughout NJ. New evening entertainment will feature Barbara Harris and the Toys on the main stage. Carnival rides and children's entertainment will also continue into the night for the first time ever.
Schedule of Events
9:30 AM – Food Truck Festival Begins
9:45 AM – Flag Raising Ceremony
10 AM – Decorated Children's Bicycle Parade
10 AM – 1 PM – Rides & Amusements
10:45 AM – DJ and Family Dance Party
11:30 AM – The Kootz in Concert
12 NOON – City Services Softball Game
1:00 PM – Memorial Field Closes for Setup
6:00 PM – Food Truck Festival & Carnival Rides Reopen
6:15 PM – Presley and Melody Kids Concert on Hay Wagon
7:30 PM – The Infernos
9:00 PM – Retire the Colors
9:15 PM – Grand Fireworks Display
For more information or to donate to the celebration, visit Summit 4th.
What will you be making for 4th of July?
Check out our Baby Back Ribs Recipe.