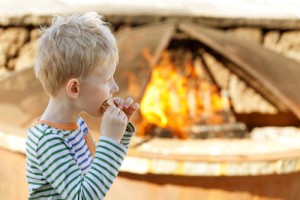 My friend started making these, and they became an instant favorite of my kids.
Ingredients:
1 box of graham crackers
1 tub of Toll House cookie dough
1 bag of mini-marshmallows
3 Hershey chocolate bars
Preheat oven to 375.
Line cookie sheets (can't use the flat ones, as there has to be an edge to keep crackers from falling off) with parchment paper.
Lay one layer of graham crackers on paper. They should be touching.
Spoon cookie dough onto crackers, keeping spoonfuls about 1 inch apart from each other. Press down with your fingers.
Bake for 5 minutes, and remove from oven.
Press 1-2 mini marshmallows and 1/12 of a chocolate bar into each piece.
Bake for another 5-8 minutes until cookie dough is golden brown.
Let cook and cut into squares with a sharp knife.