Written by: Nikki Tardibuono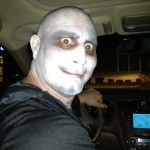 Halloween is a great time of year to be crazy creative with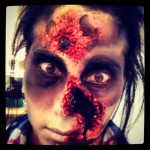 making oneself up. You can do simple faces with makeup that you can purchase at any local party store. A simple face would include one such as Uncle Fester or Wednesday from Adams Family.  You can also get a bit more creative and use everyday makeup that comes in bright fun colors to replicate a famous painting such as "Callow Lily".  Another idea for those that are daring, take a run to your local craft store and purchase some sequins or glitter and face glue using in conjunction with everyday bright colored makeup.  You can make yourself into a mermaid or an angelfish. If you want to go down the gore'ish road and portray yourself as a "bar fight" victim, you can use a more professional grade makeup line that can be purchased online such as frendsbeauty.com. Lastly, if you are pulling out all the stops and want to go all out, you can hire a professional makeup artist such as myself to turn you into a "walking zombie" or a "human sugar skull".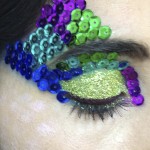 Whether you are going au natural or going all out … have fun, be creative and have a very Happy Halloween!!
Nikki Tardibuono is a trained make-up artist and did all the make-up shown here. If you'd like to contact Nikki, click here.