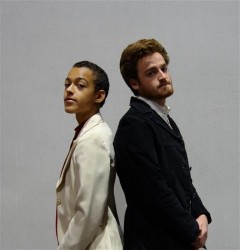 The Red Bank Regional (RBR) Theatre Company will present Amadeus this month. The role of Salieri will be played by multiple award-winning drama major, senior Patrick Monaghan, Little Silver.   This drama director Reuben Jackson's debut who states of the play, "It is one man's search (Salieri) for the meaning of life through music and his act of revenge against God when he is confronted with the true absolute genius of Mozart. It is a character study in the nature of evil, court politics, love and musical genius." Visual & Performing Arts Academy attracts students from towns throughout Monmouth County.
Performances will take place on Saturday, November 21, at 7pm, Sunday, November 22, at 3 pm, and Monday, November 23 at 7 pm. Tickets are $10 for adults and $5 for students and senior citizens. (RBR students are free.) 
For more information and tickets, visit: www.rbrhs.org/.
Red Bank Regional
101 Ridge Road
Little Silver, NJ.