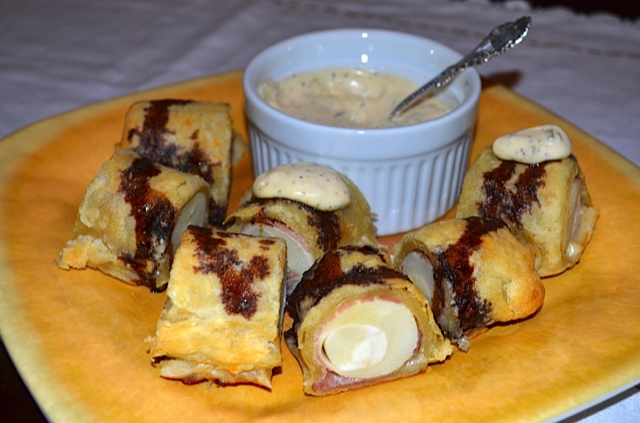 prepared by and photo by Emily Doscher

Not the prettiest of appys, but these rolls are packed with flavor.  The balsamic vinegar reduction adds sweetness and the prosciutto gives them a salty flair.  The garlic remoulade is the icing on top!

Size:

makes about 1 1/2 dozen



Ingredients:
HEARTS OF PALM
1 cup balsamic vinegar
1 sheet puff pastry, thawed
2 tbsp freshly grated Parmesan cheese
1 (14 oz) can hearts of palm, drained
4 to 6 thin slices prosciutto
GARLIC REMOULADE
3/4 cup mayonnaise
1 tbsp Dijon mustard
1 tsp fresh chopped tarragon
1/4 tsp hot sauce
1 tsp drained capers, chopped
1 garlic cloves, minced
1/4 tsp freshly ground black pepper
1/4 tsp salt



Directions:




Bring balsamic vinegar to a boil in a small saucepan, Reduce about 25 minutes or until thickened.  Set aside.
Place puff pastry sheet on a lightly floured surface; sprinkle with Parmesan.
Wrap one heart of palm with a slice of prosciutto; place on the edge of puff pastry.  Repeat procedure with another heart of palm and prosciutto slice, lining them up along the bottom edge of puff pastry.  Roll puff pastry once around prosciutto-wrapped hearts of palm.  Slice pastry about 1/2 – 1″ away from hearts of palm so there is enough pastry to seal closed.  Place roll, seam-side down, on a foil-lined baking sheet.  Repeat procedure with remaining hearts of palm, prosciutto, and pastry.  (The diameter of hearts of palm varies, so keep similar sizes together for easier rolling.  The number of hearts of palm will vary in the can; save extra pieces for other purposes.)
Bake at 400F for 12 minutes or until golden brown.  Cool slightly, and cut into 1″ pieces.  Drizzle with balsamic reduction, and dollop with Garlic Remoulade.

GARLIC REMOULADE: Combine all ingredients in a bowl.  Chill until ready to serve. Makes 3/4 cup.