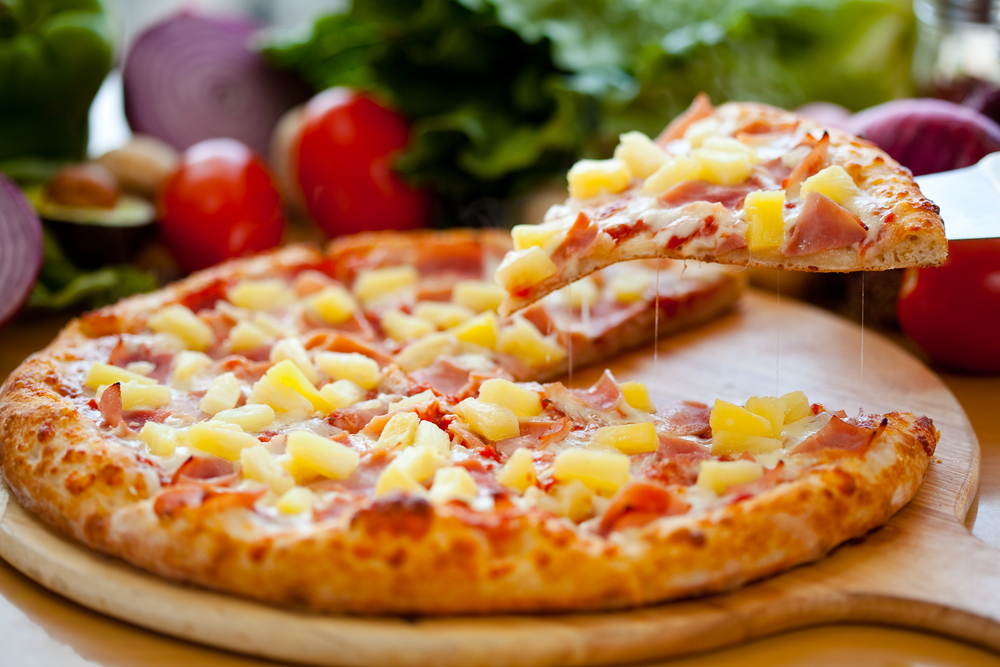 Another delectable way of how to use up left-over ham. Adapted from A Hint of Honey, ham and pineapple match up with smoked Gouda and BBQ sauce. Sweet, savory, cheesy and downright tasty. Serve a mixed baby green salad alongside and you've got yourself a complete meal with all of those infamous food groups taking part.

Size:

makes 1 pizza



Ingredients:
1 package of store-bought pizza dough
1 bottle of your favorite barbecue sauce (only going to need a little)
Virginia baked ham, or left over ham, thinly sliced and chopped (Canadian bacon works too)...about 1/2 cup
1/2 cup of fresh pineapple, cubed (small)
1/2-1 small red onion, thinly sliced (as desired)
4+ ozs of mozzarella, grated (if desired, add more cheese)
4+ ozs of smoked Gouda, grated (adjust according to personal taste)
Red pepper flakes, for sprinkling (optional)



Directions:




Preheat oven to 450F.  (I use a pizza stone in my oven… preheat that as well at this time).

Make certain raw pizza dough is room temperature before preparing pizza. On a lightly floured work surface (I make directly on a pizza peel), flatten pizza dough ball into a disk.  Loosely cover with plastic wrap; let rest 5 minutes.  Using a rolling pin or your fingertips, flatten and push dough evenly out from center to form a 9-12″ circle (I find mine never to be uniform). Transfer to pizza stone. If not using a pizza stone then I suggest using a non-stick pizza (or round) pan.**

Top prepared crust with a thin layer of barbecue sauce, ham, pineapple, onions, mozzarella, and smoked Gouda.

Bake for 10-15 minutes until the cheese is bubbling and the crust is golden brown. Remove from the oven, sprinkle red pepper flakes (if desired), slice, and serve…

** May want to cook one side of of crust for 2-3 minutes prior to adding toppings… I find sometimes the crust isn't as cooked through otherwise (and I like a little bit of crunch).