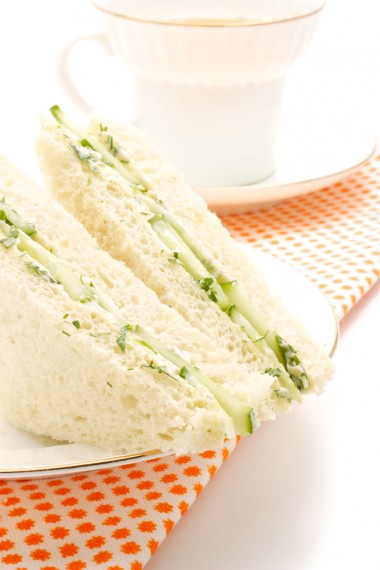 A lost art, the "finger" sandwich… easy and refreshing.

Size:

serves 10



Ingredients:
1 large cucumber, peeled, seeded, and grated
1 package (8 oz size) cream cheese, softened
1 tbsp mayonnaise
1 tsp dried chives
1/4 tsp dried dill weed
1/4 tsp salt
1 loaf (16 oz size) sandwich bread (I like whole grain white or wheat)
Cucumber slices for garnish



Directions:




Stir together cucumber and next 5 ingredients.* Spread mixture evenly over half of the bread slices, top with the remaining slices of bread. Then, trim the crusts from sandwiches. Cut diagonally and then cut in half to make little triangles. Garnish. Store in airtight container in refrigerator.

* This is easy to make. Make the spread the day before and refrigerate so that the flavors can mingle. Let sit a few minutes before spreading onto the sandwiches.