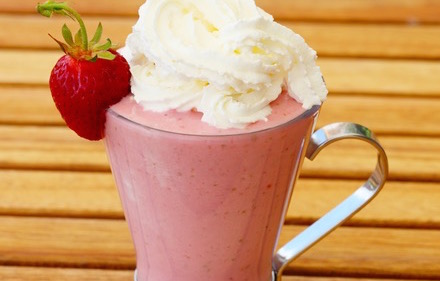 A sweet treat for the entire family with a bit of omission… specifically, rum. Bring the ice-cream parlor into your own home this evening and turn those back-to-school frowns upside down! (recipe adapted from bonappetit.com)

Size:

makes 4



Ingredients:
4 oz fresh strawberries (about 3-4 large), hulled and quartered
1 tbsp sugar
3 tbsp drk rum, 80 proof (optional)
1 tsp Champagne vinegar or white wine vinegar
1 pint strawberry ice cream
Whipped cream
Freshly, finely ground black or pink pepper



Directions:




Combine strawberries and sugar in a small bowl; let macerate until juices are released, about 30 minutes. Add rum (if using) and vinegar.

Scoop ice cream into a blender. Add strawberry mixture and blend until smooth. Divide milk shake among small glasses. Top each shake with a dollop of whipped cream; sprinkle lightly with pepper. Serve with a straw… and maybe a strawberry.