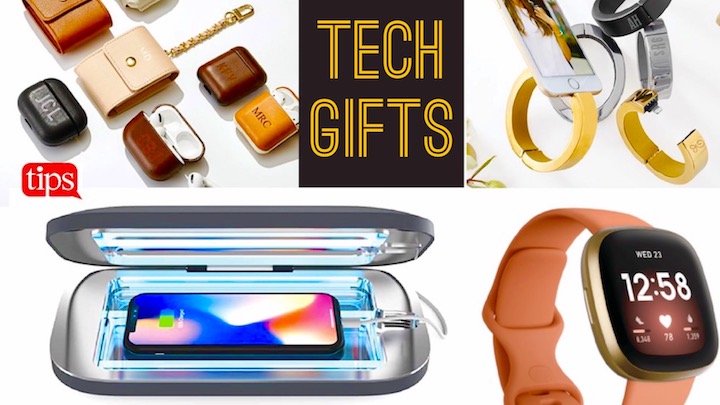 I am not a techy person (I was still using a flip phone long after I should have been) but this year, there are several tech gifts that have me pretty excited for giving. And I wouldn't mind if Santa left a few of them under my tree for me too. Here's the list: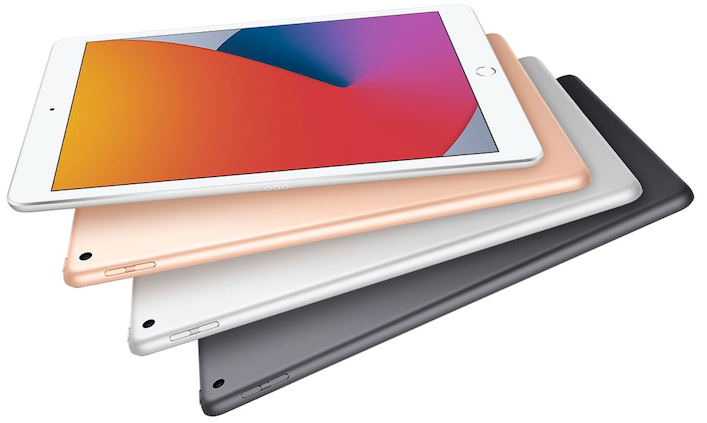 1. 8th Generation –at an Affordable Price Point
One of the biggest suprises for me this year was the new price point for the New Apple iPad 8th Generation
that came out this fall. It starts at $329
–a big difference from the high price points in the past. It's uses the A12 bionic chip that came out in the iPhone XS so it will run a little faster, is better at multitasking, and supports the Apple Pencil and the Smart Keyboard. You get 32GB for $329
; an upgrade to 64GB of space will run you $429. It comes in gray, silver and gold.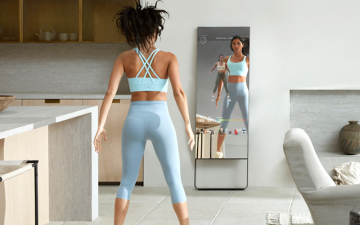 2. A Gym That Hide in Plainsight
If you hate going to the gym or are avoiding the gym this year, here's the new cool way that everyone is talking about–including Oprah–to keep in shape from your living room. The The Mirror Smart Home Fitness System lets you stream unlimited live and on-demand classes from over 50 types of workouts including cardio, strength, yoga, and boxing. Your subscription gives you and up to 5 household members unlimited access to live and on-demand classes at all levels. And when not in use, it will blend into the room with it's sleek design. But this is a big ticket item at around $1900
which includes a one-year subscription ($468) and white glove delivery. 30 day risk-free trial.
 The price is a big pill to swallow but they do offer monthly payment plans.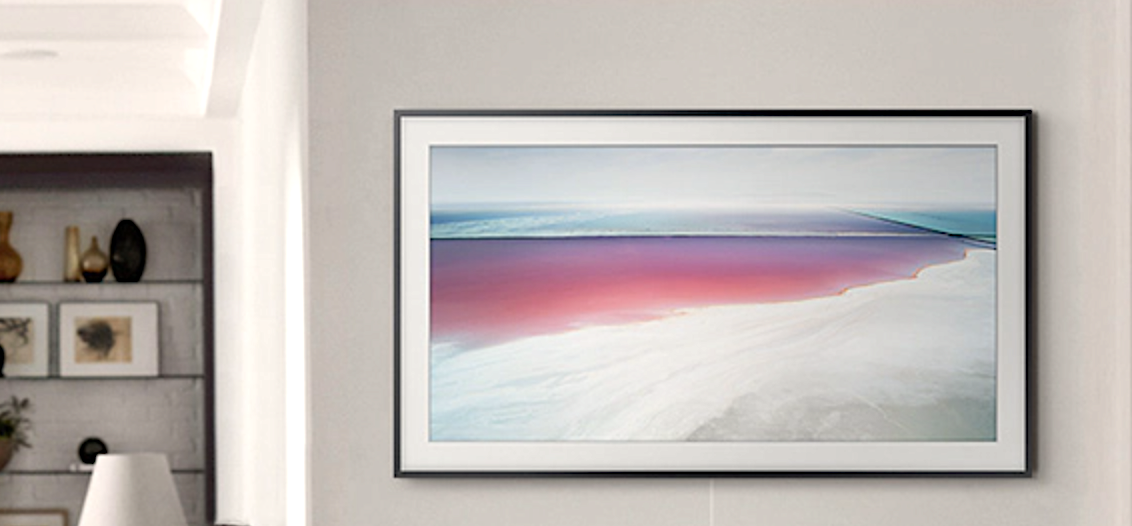 3. The Frame

If you hate the way a tv looks as much as me–especially over a fireplace, the Samsung Frame TV
is the perfect way to hide it. Santa came a little early and brought us one. I love that I can load photos or swap out different art from their app. You can customize your frame and on the art app, you can choose a matte that suits the art. Starts at $475.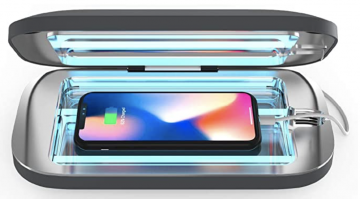 4. Charge & Sanitize
Enough with wiping your $800 phone down with wipes. The PhoneSoap Pro UV
  sanitizes your phone and kills germs in just 5 minutes while it charges it. And this one can fit the largest of smartphones, and even will fit big phone cases like OtterBoxes. Amazon, $119.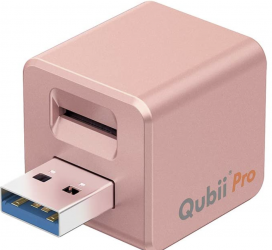 5. Out of Space
I am constantly getting the message that I am out of space and should upgrade my iCloud; I know it my thousands of photos! If you're looking for something for the whole family to use, go with the Qubii
. You can buy multiple memory cards–one for each person in your family and it can back up your photos while charging your iPhone or iPad. Qubii is about $55
 or $84 with the memory card.
 If you're looking for something small for one person, try the Photovault, $59. And it skips duplicates!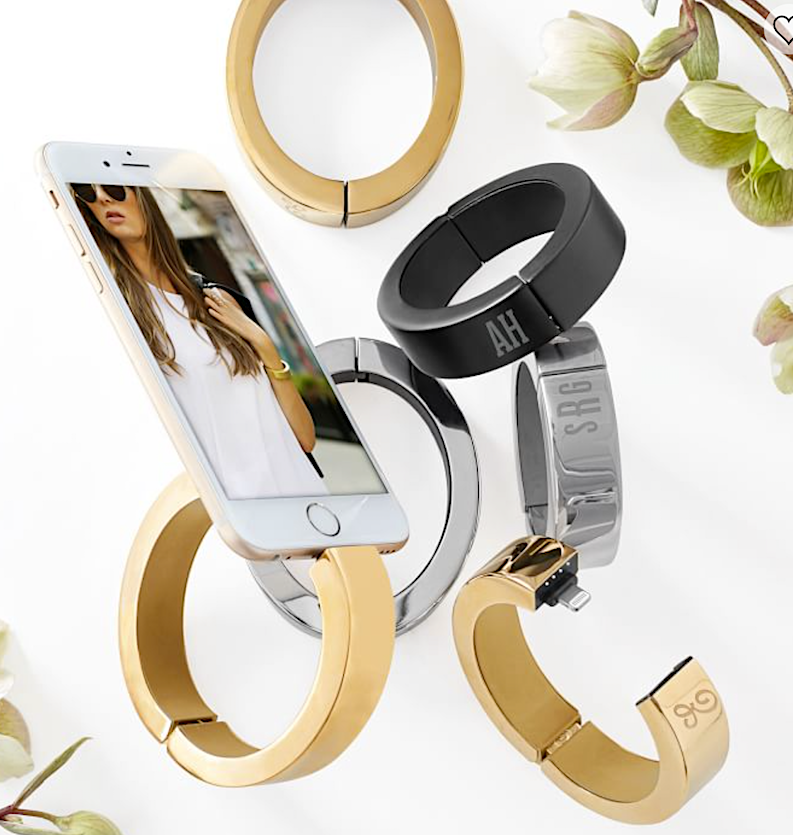 6. An Incognito Phone Charging Bracelet
You would never know that this sleek, gold bracelet is actually a charging device! It also comes in black for men. It can hold a full charge for 30 days and can increase your iPhone battery charge by 50% in just 40 minutes. This is also for all the times my kids tag along with me and realzie that theur battery is at 9%. On sale for $99 from Mark & Graham.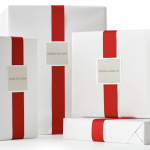 *** Another reason I love Mark & Graham? They actually gift wrap WITH PAPER!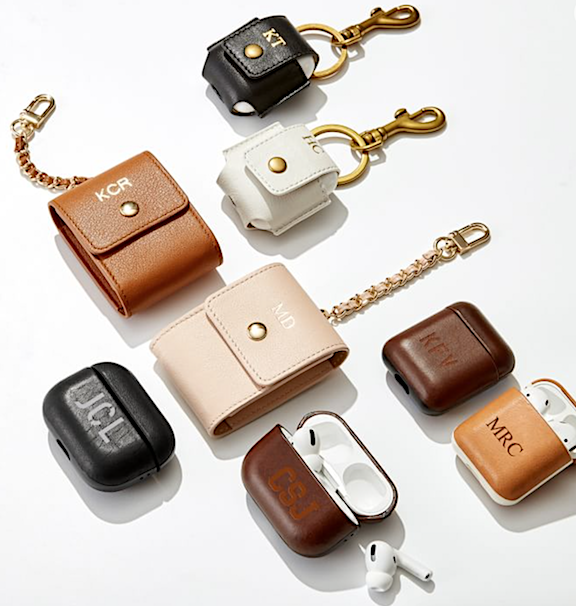 7. Never Lose Your Airpods Again
If you constantly lose you airpods in your purse, here's the answer. Store them in a beautiful, monogrammed leather case. The chain strap can be hooked to the inside of your bag, $49. They also make monogrammed leather cases without the chain, $29. Again, from Mark & Graham so you CAN have it gift-wrapped!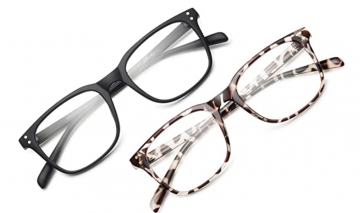 8. Protect Their Eyes from Blue Light
When school means hours more in front of a screen, the whole family can benefit from some eye protection. Wearing blue light glasses report a decrease in eye strain and better sleep. Their are lots of options for adults and kids–even options with magnification and for evenings in front of the screen. $11.99 and up.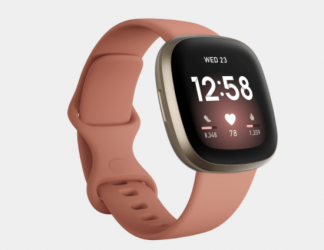 9. Keeping Up with My Steps
I never really wanted a fitbit, but now that I'm not going to the gym and walking more for exercise…I kind of AM curious about how many steps I'm taking a week. The new fitbit includes an Alexa Built-in and sleep tools. Need motivation? Take a virtual adverntures with your steps.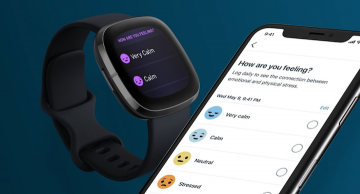 10. Feeling Stressed?
The new Fitbit Sense
 will tell you everything you need to know about your wellbeing. Besides counting steps and monitoring your sleep, the Fitbit Sense provides high & low heart rate notifications and will help you gauge your stress level! You'll receive a daily score ranging from 1 to 100 calculated by three metrics: your responsiveness, exertion balance and sleep patterns. With help from Alexa, it will even give weather checks and control your smart home devices. $326
.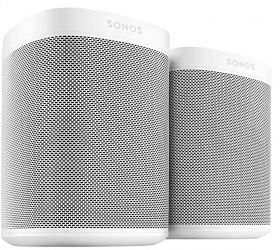 11. The Sound of Music

We're spending a lot more time in our homes so if you're a family of music lovers, you'll love the Sonos system. It has changed the way we listen to music in our family. You can add speakers as you go–inside or out–and control everything from your phone. And it doesn't require an electrician and a tech expert to trouble shoot. You can start with a two room Sonos set
 for about $375 to get started, more depending on speaker choice and size of your home. The Sonos PLAY:5 Ultimate works with Alexa
 and is around $499. If you're looking for something to play music and enhance your home theater experience, go for the Sonos Mountable Playbar
, $698.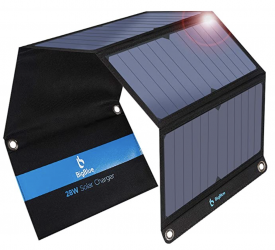 12. Solar Charger for When You're Off the Grid
Charge your devices while your on a hike, camping, sailing or on the field with a solar charger. The Big Blue
is lightweight and has three output ports. Plus, it has a weatherproof port protector. $55
.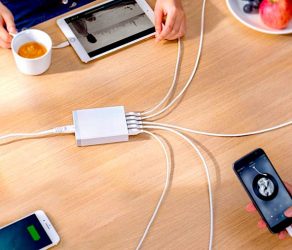 13. Get a Charger for ALL Their Gear
Instead of lugging around multiple chargers, get a charger that has mutliple ports like the Anker 5-Port USB Charger
. It can power up to five devices at a time. About $25
.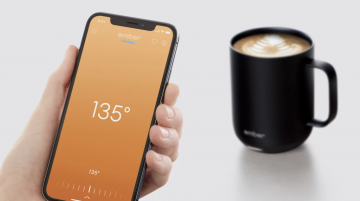 14. I Like My Coffee Hot…But Not Too Hot
Not only does this smart mug
keep your coffee hot, it allows you to set an EXACT drinking temperature so it's never too hot, or too cold! Ember Smart Mug
retails for $99.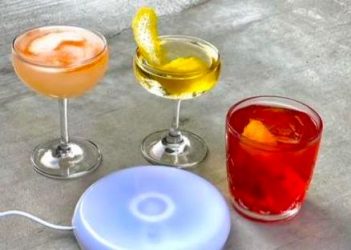 15. Can't Make a Cocktail to Save My Life
I can pour a glass of wine, but I can't make a cocktail to save my life. This gadget connects with an app. You select your cocktail from the app and follow the instructions. The Barsys Coaster illuminates and changes colors to indicate when to start and stop pouring each ingredient. $95.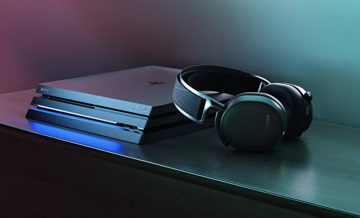 16. Gaming Headsets
After doing a little research, the Steel Series Arctis 7
 seems to be the top pick out there. There are more expensive options out there but the Steel Series has great sounds, a comfortable fit, has a 24-hour battery and works with just about every system $149
.

17. The Playstation 5
Speaking of gaming, the Playstation 5 is out and apparently, it is better than the PS4 in almost every way–at least that's what my son told me. So I did a little research because at about $500 it's a big ticket item (compared to the Playstation 4 that retails for $299). The first thing I discovered–and this was weeks ago–is that you can't find the darn thing ANYWHERE except maybe on Ebay where people are selling it for 3 times what it retails for. Why is it in demand? This platform has better resolution, and faster storage, faster computing. They lost me when they starting talking about TFLOPs. If this is your kids' first go around with a Playstation, they'll be perfectly happy ewith the PlayStation 4
–although even those prices seem inflated for the holidays. Otherwise, get ready for sad, disppapointed faces on Christmas morning; you'll have to wait until after the holidays. PS: If any of you find one, lmk!
---
35+ HOLIDAY COOKIES: From Stained Glass Cookies to Skinny Magic Bars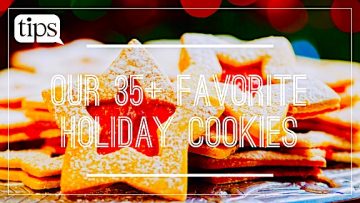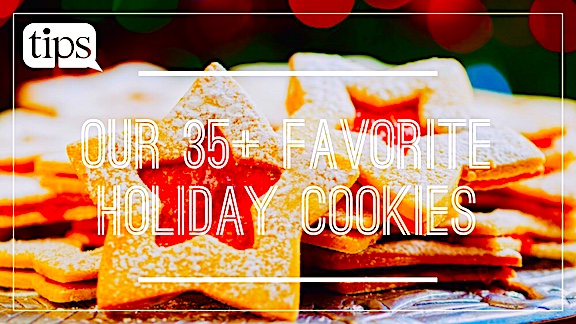 ---
15 Adult Games: 21 and Over Only!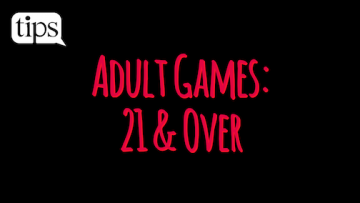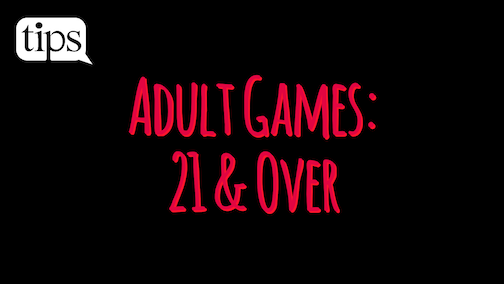 ---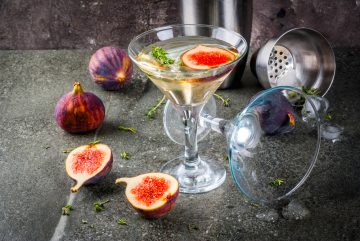 ---
30+ Ideas for Your Elf on a Shelf