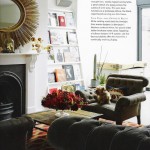 Open shelving works well as long as you keep the display neat and simple. Here are some secrets for making it look great at all times:
 1) Arrange items with similar shapes or colors to keep it from looking like a total mishmash of clutter. For example, you might want to show off your collection of mercury glass, or stick to all-white items on the shelves.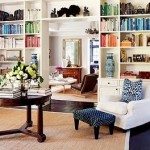 2) Treat each item like a piece of sculpture when you are arranging. Take a step back and check out the composition as you go along. Leave ample space between items. Photo from Turquoise, Tulips and Bliss blog.
3) Switch the shelf arrangement around. If you have a neat row of small books on the open shelves, you can switch them out with a set of picture frames to get a totally new look.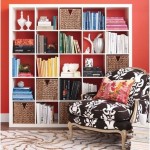 4) There are no rules. Don't be afraid to try different arrangements and mixing and matching different objects together. This how to photo from The Lovely Side blog.
5) Arrange neat stacks of books together on a table. Keep a coffee table book open so that you and your guests can enjoy it.
6) Arrange books on shelves by color. A "rainbow" collection of books, adds a pop of color to wall of bookshelves.
For more inspiration, author and bibliophile Damian Thompson's book Books Make A Home tours homes, discovering lots of techniques for stacking, shelving and closeting volumes, and illustrating how each space can be brought to life by books.