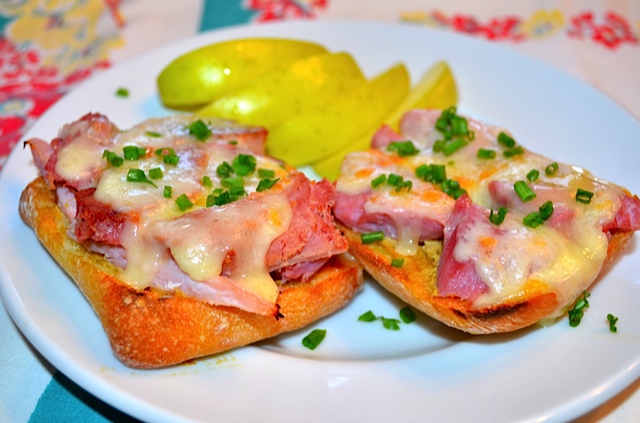 prepared by and photo by Emily Doscher

Wonderful way to use any left over ham, or some thinly sliced Black Forest Ham.  Freshly cut apples and a side salad of green-leaf lettuces completes the meal.

Size:

makes 6



Ingredients:
3 ciabatta rolls, halved horizontally, or 8 1/2" slices country-style bread
2-3 tbsp olive oil
6 tbsp apple butter
4 tbsp Dijon mustard
1 1/4 lbs ham (left-over or Black Forest Ham), thinly sliced
12 oz extra-sharp white cheddar cheese, sliced
1 bunch fresh chives, finely chopped



Directions:




Brush cut side of ciabatta rolls with oil.  Place rolls, cut side up, on baking sheet.  Broil until rolls begin to brown around edges, about 2 minutes.  Spread apple butter and mustard on each roll half.  Top with ham, then cheese.  Broil until cheese melts and begins to brown in spots, about 2 minutes.  Sprinkle with chives and serve.