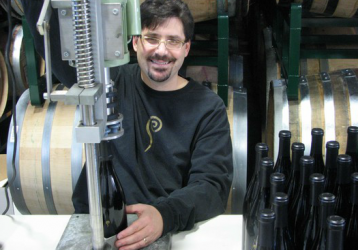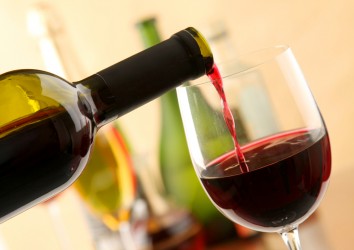 Meet New Jersey Native David Rossi And Sample Four Of His Outstanding Sonoma Wines David Rossi started making small lots of wine in his basement in New Jersey. In 2005, with a shelf full of national amateur winemaking awards, he founded Fulcrum Wines in the heart of California wine country. He has emerged as one of California's most exciting Pinot Noir makers and one of its best-kept secrets. Vintage after vintage, Fulcrum's wines are among the finest from their appellations and the accolades are too numerous to list. His outstanding wines are perfectly suited to a Thanksgiving feast! Below are some of David's picks:
Cloisonne, 2014 Pinot Noir, Carneros, CA
This affordable, medium-bodied Pinot Noir displays subtle toast aromas from 15 months in French oak barrels (15% new). With enough time in the glass, this wine runs the gamut of distinctive varietal flavors, with plum evolving into ultra-ripe cranberry, black cherry and eventually turning to delicate strawberry and spice in the finish. The fruit remains cloaked in a translucent veil of toasty oak that compliments rather than overpowers the fruit. Regularly $18.99, Special Tasting Price, $15.99
On Point, 2013 Pinot Noir Christina's Cuvee, Anderson Valley, CA
This lushly textured Pinot Noir displays restrained nuances of mocha in the nose and palette, followed by rich flavors of dark chocolate covered cherries, cassis, earth and spice. Wispy hints of wood smoke appear in the lengthy finish. Regularly $32.99, Special Tasting Price, $26.99
Fulcrum, 2013 Pinot Noir, Brosseau Vineyard, Chalone AVA, CA
The nose displays a little of that wild, smoky, earthy Pinot Noir funkiness that Pinotphiles adore. This is a medium to full-bodied red featuring dark, spicy berry flavors folded into a bed of stony minerals. The substantial finish reveals understated notes of earth and mocha. Regularly $51.99, Special Tasting Price, $39.99
Fulcrum, 2013 Pinot Noir, Landy Vineyard, Russian River Valley, CA
Rich, earthy aromas are reminiscent of vanillin cookie dough and dark fruits. This is a full-bodied Pinot Noir with ripe plum, black cherry and cassis fruit flavors presented with a soft, luscious mouthfeel. When given some time to breathe some strawberry and sweet spice characteristics emerge on the eternal finish. Regularly $51.99, Special Tasting Price, $39.99
Saturday, November 21, meet David Rossi and sample several of his Pinot Noirs at The Wine Seller in Ridgewood, NJ. between 5 and 8 pm and receive a  15% to 23% discount for this 'can't miss' event.
Can't Make It Saturday? Taste David's Wines this Friday, Nov 20 from 4:00 & 8:00pm.
The special tasting prices are good through Sunday the 22nd, so stop by the The Wine Seller or call (201) 444-3300 to reserve your Thanksgiving wine at these prices.