On Veteran's Day, many of us remember our fathers, grandfathers, brothers and uncles who have served for our country. Today, I'd like to especially remember the many brave women who serve. Thanks to women like Alyce Dixon, sometimes I take for granted how easy my life, as a woman, has been. I don't even consider that I might meet obstacles because I am a woman;  I just go for it. So here's some inspiration for granddaughters, daughters, sisters, and nieces.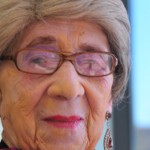 Meet the oldest living female World War II veterans, Alyce Dixon. Ms. Dixon is only 108-years…young. She served during World War II and not only did being a woman put her in the minority, she was also one of the first African American women to serve.
Ms. Dixon was born in 1907, one of nine children. She grew up in Boston, Massachusetts where she graduated from Dunbar High School. In 1925, she began classes at Howard University. Ms. Dixon quit Howard due to her family's financial hardships and got a job at the Lincoln Theater as a secretary. In 1943, she joined the Women's Auxiliary Army Corps in the postal division and was stationed in England and France. She left the WAC in December 1945 and worked at the Pentagon in requisitions until she retired in 1972. She now lives in Northwest Washington in a VA Community Living Center.
Ms. Dixon has had the privilege of meeting President Obama, which I'd imagine was as much of an honor for him as it was for her.
Today, we honor all of our brave and loyal veterans and thank them for their service. But today, I feel particularly inspired by Alyce Dixon. May her service inspire other young women to follow in her footsteps to pursue their dreams and serve their country.