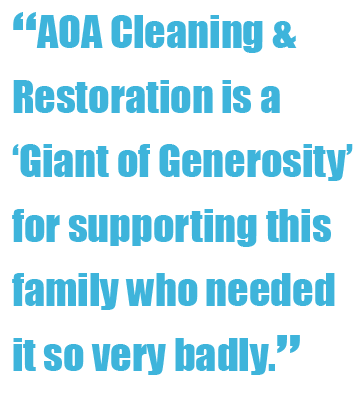 Last week, one of our local businesses came to the rescue of a local family in distress. AOA  Cleaning & Restoration of Wyckoff was contacted by Giants of Generosity, a Bergen County 501c3 charitable organization, and asked if they could come to the aid of a Ridgewood family who was already dealing with multiple health and livelihood issues. Giants of Generosity's mission is to help families that are facing critical, life-altering situations.
This Ridgewood family's home was badly damaged when a water heater broke and flooded their basement. They needed a certified property damage expert to prevent the formation of dangerous mold that can occur from damage like this. Unfortunately, the family could not afford one.
So Kevin Grau and his AOA team graciously offer their services…for free. His expert technicians recognized the need for immediate action in order to avoid dangerous mold proliferation, so they immediately removed the soaked and ruined carpeting and extracted all the water. They then applied antimicrobial agents, and put drying equipment in place for a few days to make sure the area dried properly. The area is now properly cleaned and remediated the AOA way—at no charge to the beleaguered family.
It isn't every day that a local business does a good deed for someone who's not a customer. We're so proud to have a company as generous as AOA in our community who truly seeks to give back to our residents. We commend them on their philanthropic efforts and hope that their actions will inspire other companies to do the same when an opportunity presents itself.
"AOA Cleaning & Restoration is a 'Giant of Generosity' for supporting this family who needed it so very badly," said D. Jane Albanese, president of the non-profit organization. "We urge homeowners and commercial property owners throughout Bergen and Passaic counties to think of AOA when they experience flooding, water or sewage damage, mold and other situations at their locations. This local business deserves the community's support in thanks for its wonderful, kind deed."