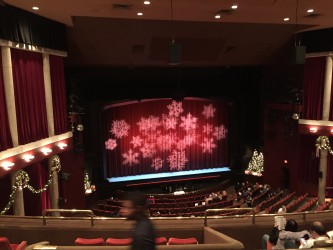 Most of us have seen the 1983 movie "A Christmas Story" more times than we can count, but the musical version that originated on Broadway and is currently playing at the Paper Mill Playhouse in Millburn through January 3, truly is a family must-see this holiday season.  My husband and I saw it this past weekend and enjoyed each and every moment.
The cast was exceptional and the kids definitely bring a smile to your face.  The show provides plenty of laughs mixed together with touching family moments.  You'll recognize all of your favorite movie scenes along the way.
Seating at Paper Mill Playhouse is comfortable and there's not a bad seat in the house.  The theater is adorned in festive white lighting this time of year, with garland and trees surrounding the stage.
Your children can have fun taking photos with the Christmas Story "face in hole" cut-out displays in the main lobby as well as the mezzanine.
Evening show starts at 7PM making it more ideal for families with children.  There is a 15 minute intermission with an end time of approximately 9:30PM.  There are also 1:30PM performances on specific dates.
Go to TICKETS to check pricing and availability.  Paper Mill has just released a new block of available seats!